While the Audit Partnership Best grocer Aldi does not trade online, it puts up a good fight against heavyweights in the industry and stands firm in its quest to deliver quality products at low prices 
Recent years have brought seismic change in the grocery market and, time after time, Aldi has been the driver of that shift – and in the last year it continued to set the pace.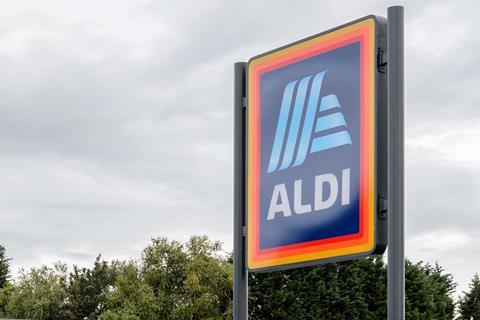 While changing shopping habits powered by the advent of new technology have played a part, Aldi has been a consistent success, even though it does not trade online.
Through its consistent focus on low price and quality, the value grocer delivered another year as a market disruptor that set the pace across the food retail landscape. And, having successfully developed and adapted, it looks likely to continue to do so as wider change transforms the grocery sector.
One of the judges said: "Groceries are going to be turned upside down [as has happened elsewhere in the world]. I want to see evidence traditional grocers that are trying to do something to address this. Aldi is working hard to position itself with that future in mind."
Right time, right place
Aldi has operated in the UK since 1990, and for years remained a niche discount brand with something of a downmarket reputation. Today it is the fifth-largest supermarket in the UK, with 825 stores and employing 34,000 people.
Shoppers first bought into the grocer in the austere months and years after the global financial crisis of 2008. But while economic conditions have changed, they have kept coming back to Aldi because it is no longer seen as a compromise or a sacrifice.
"It's impressive the way Aldi has changed perceptions, especially with premium products," one judge observed. "Aldi has disrupted grocery now for years on end. All these years on and it still is doing that, which is really impressive."
To still be growing – at the fastest rate of any UK supermarket – tells the story of a retailer with a sustainable model as well as a nimble one. British shoppers have taken to the brand and the products, and seem unlikely to change their minds.
One judge said that is down to the fact Aldi has managed to keep its offer fresh and new, giving shoppers more reasons to keep coming back rather than just savings on groceries.
Aldi's special offers have become a big appeal. Apart from anything else, the judges agreed, they have put the grocer front of mind with consumers: "Both in terms of financial performance and the fact that it is continuing to innovate, [it shows the retailer is] continuing to think about the customer and changing what it does. Aldi pleasantly surprises you with its special buys."
Aldi's long-term plan is to have 1,200 stores in the UK by 2025, and it is opening 65 in 2019. By then, Amazon may have made progress in its plans to build a food presence including physical stores, with a minimum of shop staff; ecommerce and warehousing technology will be even more advanced.
Making model plans
In that future, grocers with the most agile models, the most convenient offering and the sharpest margin management will thrive.
"Aldi has a very clever model given what is coming round the track," one of the judges said. "The grocer is right there, near its consumers and it is in the space that it needs to be in."
It has drawn customers from its rivals and across all income groups, exerting a universal shopper appeal. In a year during which it achieved record sales, reflecting how it maximises its strengths, Aldi was the stand-out winner in the grocery category and looks well positioned for further growth to come.


Audit Partnership
Audit Partnership recovers millions each year to global organisations of all sizes and sectors.
Providing a fresh alternative to the current offering in the profit recovery industry, with the partnership approach it shares audit findings, working with clients to minimise future losses.
Its dedicated and experienced team utilises progressive and dynamic financial service solutions and industry-leading technology to achieve maximum success on every project.