Appliance etailer Ao.com has created a company culture based on customer service, winning it the Serco Customer Service Initiative of the Year Award.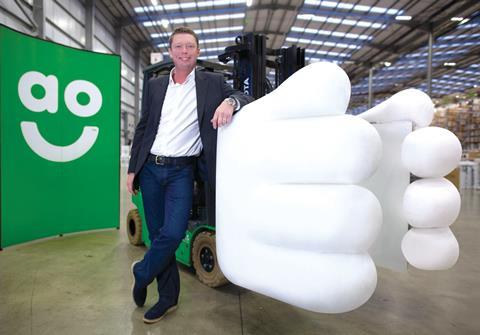 While customer service is high on the agenda for most retailers, white goods etailer Ao.com has taken it to the next level. The judges were looking for a retailer that was doing something different and innovative, and Ao.com stood out.
Customer service is at the heart of everything Ao.com does, according to founder and chief executive John Roberts. Responding to customer feedback, acting on it and communicating it across the company have been made a priority.
The etailer has introduced a number of initiatives that have increased engagement with customers, letting them know their feedback is valued, and incentivising staff to go that extra mile in delivering stand out customer service.
Responsive service
The Bolton-based retailer, previously known as Appliances Online, engages with customers through whichever channel contact is made and aims to respond to all negative feedback, and as much positive as it can. It has created dedicated teams whose job it is to monitor comments and engage with customers on social media and customer review sites, seven days a week. The retailer, whose Facebook page has 1.4 million likes, recognises the potential of social media in customer service.
Head of brand and social media Yossi Erdman told the Retail Week Ecommerce Summit last year that teaching call centre staff to interact with customers on Facebook has helped increase sales more than responding via traditional methods.
Roberts, who set up the company in 2000, plays an active role. He takes a personal interest in complaints and customers receive a hand-signed letter from him to apologise for an inconvenience.
He also writes to customers who have left positive feedback on Facebook and review sites to thank them. Roberts estimates he spends about 40 minutes a day signing letters, but he considers it time well spent.
Ao.com says this level of engagement will win loyalty and help spread the word about the company.
Judges commended Roberts' level of involvement and said: "The fact John is right there in the middle of it all is really impressive."
Another initiative has been the introduction of a monthly publication called Winning Moments.
The booklet, for internal teams, features some of the thank-yous that employees have received, and recognises teams and individuals deserving of praise for the level of customer service they provided. Roberts also writes to a selection of the company's customer advisers and drivers every week, to thank them for their hard work and dedication to customers.
A second monthly publication, Facebook Feedback, contains comments by customers about drivers.
It includes positive and negative views, and is mailed to every driver's home, along with a note from Roberts. The aim is to show drivers the impact they can have on customers. The retailer says there's been a big improvement in driver performance following its introduction.
Wow moments
Ao.com is not content with delivering just high-quality customer service, however. It wants customers to be bowled over. To this end,it implemented its Wow Moments initiative that encourages everyone in the call centre to do something special for a customer. The best Wow Moment is shared across the business each month.
To ensure its approach to customer service is consistent, the etailer has established a quality team who manage and have ownership
of these initiatives. A Wocas (What Our Customers are Saying) focus group ensures feedback is delivered to those who make the changes.
'It's tough to find a business that is going above and beyond. They seem to have gone that extra mile, they were stand out'
"It's tough to find a business that is going above and beyond. They seem to have gone that extra mile, they were stand out," said one judge. Another said that what Ao.com was doing was "innovative, engaging, brand relevant and different from anyone else". One judge said: "These guys are not only delivering great value in terms of price point, they're also delivering a great service online."
For Ao.com the focus on customer service is paying off. The number of reviews it receives has grown and its net promoter score is also rising. The percentage of repeat customers has risen and contact centre call quality has improved. There has also been a big response from customers to Roberts' hand-signed letters.
As a result, business is strong for the retailer. Sales stood at £275m in the year to March 2013 with profit of £8.1m, and turnover is expected to jump to £400m this year. Which goes to show that delivering high-quality customer service can take you a long way.
Serco
Serco is an international service company, which combines commercial know-how with a deep public service ethos. Its Global Services business offers transformational customer experience and business process solutions to meet the requirements of today's multichannel service environments.
Working with many of the UK's leading retailers, Serco's proposition addresses the end-to-end process through which organisations understand and fulfil their customers' journeys: from the first point of engagement through to final fulfilment. Serco's global delivery platform is based in 13 countries and 100 locations across the world.