Beleaguered entertainment retailer Game was being circled by potential buyers within hours of putting administrators on standby yesterday.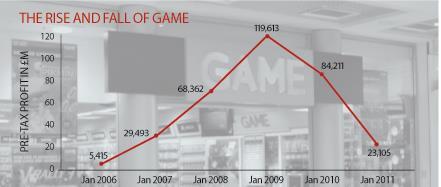 Game, which has suffered plummeting profits and a lack of supplier support in a battered games market, quickly attracted "five or six" serious expressions of interest in its UK business, sources told Retail Week. The retailer was being assessed by trade and private equity buyers.
There were also about 20 expressions of interest in Game's operations across its other eight territories – Iberia is seen as the most attractive overseas asset.
US rival GameStop is among those casting its slide rule over Game, but sources questioned whether it would want to take on more shops in the tough trading climate.
"If they get a good price they'll take it, but they won't try and outbid other people," the source said. Restructuring specialist Hilco is also among those interested.
Banks, including taxpayer-backed RBS, turned down a potentially life-saving Game deal last week, when investment firm OpCapita proposed paying off a portion of the banks' debt as well as money owed to suppliers. It is thought OpCapita has not ruled out a further bid.
Sources maintained that the banks are more interested in "minimising the size of their haircut" than saving Game, where 6,000 jobs are at risk.
RBS was also part of the banking syndicate that dismissed a deal to save Peacocks from administration.
Game filed an intention to appoint administrators on Wednesday after failing to raise £180m to pay banks and suppliers.
The retailer said in the short term the intention was to continue to trade. Discussions with lenders and third parties were ongoing. Following Wednesday's development, Game had 10 days' grace when it will not have to pay creditors, including landlords due a quarterly rent payment this weekend.
Administration is the most likely outcome, and it is thought any buyer would slash the Game estate from 600 to between 300 and 400 UK stores. PwC was expected to be appointed administrator as Retail Week went to press.
One City analyst believed the chances of Game remaining on the high street were "very high", despite likely administration, but that big challenges remain.
"They're not in control over their product, they're following someone else's technology cycle," he said. He cautioned that the boom years of 2005 to 2008, when Game's profits rocketed from £5.4m to £120m, were unlikely to be repeated.
Any future owner of Game would also have to contend with digitalisation. "We've not seen the impact of digital yet," he said.
No comment was available from any party.