Celebrity sex scandals have sparked a spike in sales of spying and eavesdropping products at electricals specialist DSGi as suspicious partners keep an eye on their other halves.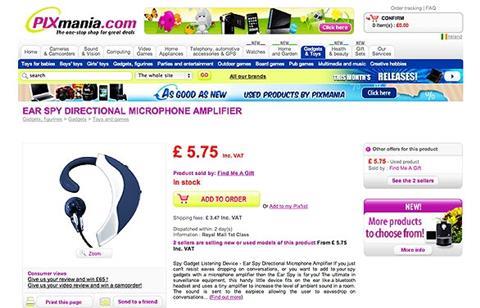 DSGi's online business Pixmania has experienced a "surge" in demand for items such as the "ear spy", which enables users to hear conversations up to 80 ft away, and pens that conceal video recorders.
Shoppers began searching for such devices in noticeably greater numbers when golfer Tiger Woods was engulfed in controversy about alleged affairs. Demand "continued to soar" as other allegations of infidelity - such as those surrounding footballers John Terry and Ashley Cole - made headlines.
Last week, Pixmania sold out of the ear spy. A spokesman said: "That's never happened before. These sort of products have been on the site for a while so [the increase in demand] has been very noticeable."
The etailer has now packaged some items together to create what it has dubbed the "WAG pack", which derives its name from the acronym for soccer stars' wives and girlfriends.
Pixmania managing director Ulric Jerome said: "In the past 12 months we have seen a significant number of sophisticated spying technologies come on to the market and consumer demand is definitely growing."
A Pixmania spokesman admitted some people might see the promotion of such products as sleazy, but maintained the etailer is responding to demand. He said: "These products are there; Pixmania is just making it easier to get hold of."
DSGi does not sell the products in its Currys and PC World stores.