AO.com plans to dial up growth with the acquisition of online smartphone specialist Mobile Phones Direct – but does the purchase represent a smart call?
On the face of it, the £32.5m swoop – subject to competition and Financial Conduct Authority approval and expected to complete next March – is a sound move.
AO.com's existing mobile phone business is small. Although the online electricals specialist does not break out sales for its smartphone division, they accounted only for a negligible portion of the £796.8m it raked in during the 2017/18 fiscal year.
AO boss Steve Caunce told Retail Week that MPD's phone sales of £121.7m in the year to March 31 were "a lot higher than ours".
Caunce said he "always had an eye on the wider category" since taking the AO reins from founder and chair John Roberts in March 2017, and had been "looking for a while" at the best route to expand into the smartphone market.
Market potential
AO launched SIM-free mobiles last year, but does not offer contracts – a market MPD will allow it to instantly tap into.
Caunce also sees the potential for "huge acceleration" into the accessories market, where AO does not currently have a presence.
"We know we have an opportunity in mobile. It was just about how we address it. It would have taken us a while to build any sort of scale," Caunce explained.
"Mobile Phones Direct gives AO access to mobile networks, as well as the opportunity to develop its service proposition"

Zoe Mills, GlobalData
GlobalData retail analyst Zoe Mills sees the benefit of AO taking such a path as opposed to developing a mobile phone contract offer organically.
"While AO World already has a SIM-free mobile phone range, Mobile Phones Direct gives the electricals specialist access to mobile networks, as well as the opportunity to develop its service proposition with the potential to expand into broadband services and complementary smart devices," she said.
"This also allows it to achieve instant access to this market with a well-established player rather than building relationships with network providers and developing this division from scratch, ensuring that it enters this new market with a competitive edge."
Doubts raised
But not everyone is convinced – none more so than the investor community.
AO's share price plunged 12.9% when details of the deal were revealed last Friday, falling from 135p when markets closed on Thursday to 117.6p 24 hours later.
Their apprehension is perhaps understandable, given the troubles at rival Dixons Carphone.
In a profit warning issued last summer, Dixons Carphone said the fall in the value of the pound following the Brexit vote had made mobile handsets more expensive to source, while a slowdown in technical innovation gave shoppers less of a reason to update their models.
The squeeze on disposable income, also heightened post-referendum, has only served to highlight another trend – inflation at the top end of the smartphone market. Apple's latest model, the iPhone X, costs £1,000.
All of which has meant consumers are waiting longer to upgrade their smartphones.
Last year, former Dixons Carphone boss Seb James, now in situ at Boots, said customers were keeping hold of their mobiles for an average of 29 months, compared to 20 months in 2013.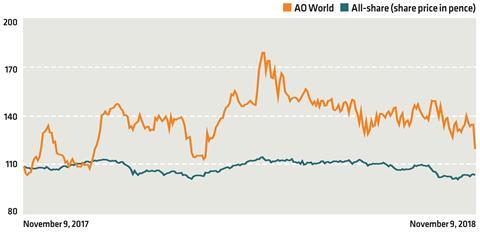 'Massive' opportunity
Caunce, however, is unwavering in his confidence about the opportunity the MPD acquisition and the smartphone market presents.
"We are definitely confident that the online market is going to grow," he insisted.
"Customers seem to want to buy this product more and more online and there is a runway for us there. The market is huge – it dwarfs white goods and it dwarfs TVs.
"We and MPD have a decent share, but the opportunity in the market is massive."
With interim results to come on Tuesday, Caunce is sure to face more questions from journalists and analysts alike about the rationale behind the deal.
He will need to convince the City that MPD signals a fresh avenue for growth.
John Roberts is speaking at Retail Week Live 2019, which takes place on 27 and 28 March. Find more details here.