Dixons Carphone is making a return to the US market after a chequered past across the pond that has ranged from the sublime to the ridiculous.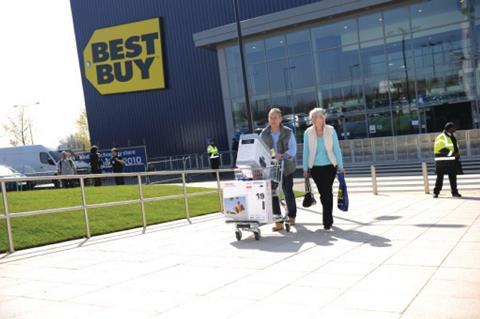 The electricals specialist's Connected World Services division is helping US telecoms firm Sprint open 20 stores as part of a trial that, if successful, will lead to a roll-out of 500 shops as a joint venture.
Dixons and Carphone Warehouse had one American venture each before they merged last year. The Dixons venture has gone down in retail folklore as a lesson in how not to expand abroad, while Carphone's is a textbook example of how to maximise returns.
Dixons' Silo venture
In 1987 Dixons acquired Silo, the third largest electricals retailer in the US, with 147 stores, and kicked off an unhappy chapter in its history.
Independent analyst Nick Bubb points out Silo was over 20 years ago, but "some people have long memories".
Dixons bought Silo from owner Cyclops, which made more than 10 times its initial investment from the deal in just seven years.
However, Dixons' involvement was a "disastrous experience" that was such a catastrophe it became "deeply etched on the Dixons corporate psyche", according to Bubb.
The failed US venture has been blamed on Dixons struggling to adapt its European style to the US and opting to open smaller format stores that were common in Europe rather than superstore formats being launched by rivals.
After running up huge losses, Dixons sold Silo to Fretter Inc in 1993. The new group, which Dixons still maintained a stake in, filed for bankruptcy in 1995 and the final stores closed in 1996.
"While the market remains cut-throat, there is more room for confidence in this latest stateside expansion"

Neil Saunders, Conlumino
Conlumino managing director Neil Saunders believes Dixons Carphone will have more luck with the Sprint tie-up.
"While the market remains cut-throat, there is more room for confidence in this latest stateside expansion in the sense that it is a new venture rather than the complex turnaround of an existing business," says Saunders.
"It is also aligned with a part of the electricals market that is growing, and will continue to grow, rapidly – and one in which RadioShack has left gaps and in which Best Buy does not necessarily have a leading edge in terms of service."
Best Buy Mobile
In the UK, the partnership between Best Buy and Carphone Warehouse was a disaster. It was another example of how not to launch internationally. Best Buy closed its 11 big-box stores in the UK in November 2011 after trying to launch a format that did not suit the local market.
However, the partnership between Best Buy and Carphone Warehouse in the US that bred Best Buy Mobile was a much more fruitful partnership.
In 2007 the two retailers signed a commercial agreement for Carphone Warehouse to provide Best Buy with the expertise to launch an independent mobile retail format in the US.
If Dixons Carphone can repeat this success with Sprint both businesses will be laughing all the way to the bank.
Barclays analyst Christodoulos Chaviaras said: "We estimate that Carphone had initially invested less than £10m to make £838m four years later after selling its Best Buy Mobile stake to Best Buy."
Memories of the sale of the stake in 2011 will be much fresher than the Silo disaster more than 20 years ago.
The greater similarities between the Best Buy and Sprint deal and the fact former Carphone Warehouse boss Andrew Harrison is now heading up Connected World Services means the safe money is on the latest US venture being a triumph rather than a disaster.