Since floating in February 2014, the plucky electricals etailer Ao.com has endured a somewhat rocky ride on the stock market.
Its share price has more than halved in that period. However, despite this bruising and some City naysayers, the self-styled "lads from Bolton that sell washers" remain bullish about their business model and are eyeing new categories and countries.
Having branched out into selling TVs, Ao is set to target the computers market with a launch by early next year. It hopes to take the same disruptive approach it has to other categories in order to capitalise.
"The computing category in the UK is a basket case," says Ao.com boss John Roberts. Even for a retailer, the former kitchen salesman is obsessive about customer service and his hope is that AO can untangle the confusing terminology around computers.
"We talk about things like megs, RAMs, graphics cards and processors. I don't understand any of it and I'm in the industry, so a customer has no chance," says Roberts.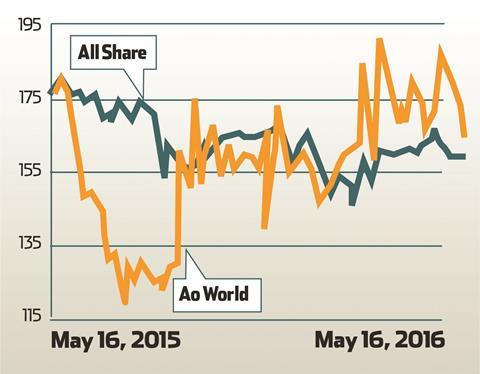 Ao has been upping its investment in the backroom technical staff who create content around products, including how-to videos. It now employs around 200 people – mostly recent graduates – in its content team, so we can expect to see this kind of approach adopted for the computers market as it continues to do battle with the likes of Dixons Carphone and Amazon.
As well as broadening its horizons on the category front, Ao remains ambitious geographically.
It first overseas market was Germany, which was followed by a launch into Holland in March. The broader electricals market in the Netherlands is worth £3.4bn alone and Ao is targeting a significant slice of that pie. Other markets that appear on Ao's target list are Ireland, France, Poland, Austria, Belgium, Switzerland and the Czech Republic.
In total, Ao has identified that the broader electricals market – including bricks and mortar – in its European targets is worth £96bn. Its ambition is to become a £20bn turnover business. This is based on the fact that 50% of the market is currently transacted online and it can grab 40% of that share.
To some, this target may seem ambitious as Ao's last annual sales came in at £477m. And Roberts may, you think, have learned from the bruising IPO process. But, being an evangelist for online retail, his belief is that this is achievable in the long-term.
Helping Ao to achieve this aim will be a new chairman. It is expected to announce a replacement for Richard Rose at its AGM in mid-July. Roberts admits that Rose is "difficult to replace" but he has been "humbled by the quality of candidates" and "spoilt for choice".
Before then, we'll get a better sense of Ao's progress when it announces prelims on June 6.