Value homewares retailer Dunelm Mill has carried strong momentum into 2013 after a blockbuster 2012, which echoed the Olympian efforts taking place in east London.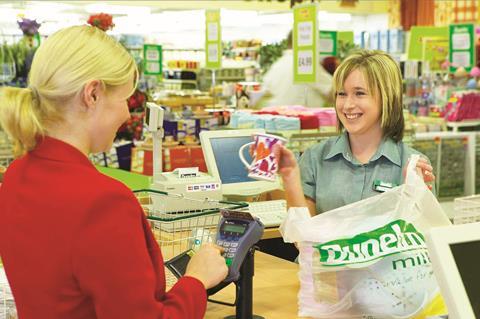 While rival and London 2012 sponsor John Lewis was basking in the glow of the Games, Dunelm enjoyed one of the most significant moments in its history when it knocked the high street bellwether from the top of the homewares market. Verdict share data for 2012 revealed Dunelm overtook the department store group to
claim a 6.9% share of the £11bn homewares market, ahead of John Lewis' 6.8%.
The success was reflected financially as the family founded business reported a pre-tax profit surge of 15.1% to £96.2m in the 52 weeks to June 30, 2012. Like-for-likes were up 3.1% while revenues increased 12.1% to £603.7m as its proposition, straplined 'Simply value for money', appealed to cash-strapped shoppers.
The retailer has a rags to riches history. Founders Bill Adderley and his wife Jean began by selling fabric on a market stall in Leicester in 1979. Dunelm then built up a business on sturdy foundations before floating in 2006, valued at £340m.
But Bill Adderley, who still lives in the east Midlands, remains down to earth. He said in 2010: "I like to watch a bit of telly, play golf and do the sort of things you do. I like a takeaway and a pint, just like you." Although Bill has retired from the business, his son Will, formerly chief executive, is deputy executive chairman after relinquishing the chief executive role to former Halfords group finance director Nick Wharton in February 2011.
Together the Adderleys control nearly 55% of the shares while Halfords chief executive Matt Davies is a non-executive director.
Dunelm's attitude to store expansion has been measured and the estate now stands at 123 out-of-town stores and nine high street shops. It has extensive coverage throughout the UK - from Cornwall to Inverness and five shops in Northern Ireland.
The retailer has significantly expanded its range during its existence. Dunelm has interwoven new big-ticket lines with its core fabric products spawned from the textile hub of the east Midlands.
Its larger stores feature fabric shop-in-shops while made-to-measure curtains remains a key service and is supported by a dedicated facility in Leicester.
Dunelm's range now comprises about 20,000 lines and encompasses everything from neon-coloured kettles to football-shaped cushions. As its categories have broadened, so has its competition. Dunelm is now fighting it out with homewares rivals of all sorts.
Its expanded range is a key factor in its financial performance. Despite its value-for-money offer, Dunelm experienced a slowdown in growth and like-for-likes as the recession deepened from 2008 to 2011, but was buoyed by an upturn in 2009/10, driven by new stores and weak like-for-like comparatives. The retailer turned a corner in 2012 though, when a hot, wet summer drove shoppers to its stores.
However, profits continued to rise throughout the recession in a business that has always been typified by close control of costs.
The retailer has run a tight ship and operating margins and profits rose as it gained efficiencies, cutting the cost of store refits and funding store expansion from cash flow.
Systems improvements in recent years have enabled staff to spend more time dealing with shoppers without any extra labour cost, therefore improving customer service.
It has also built a multichannel operation. This includes a transactional site, which offers the full range as well as web exclusives, and a click-and-collect service.
Last autumn Dunelm piloted a new 200-page catalogue. Online sales were reported to be about £15m last year.
Retail Week Knowledge Bank notes: "Dunelm is expected to continue to outperform the home furnishings sector as a result of its value-led stance, given that the UK economy is forecast to remain weak in 2013." The retailer's future looks bright as the economy remains depressed and it will plan to continue to improve efficiencies and capture enduring consumer appeal.
Pleasing financials
Turnover for the year to June 30, 2012£603.7m
Pre-tax profit £96.2m
Chief executive Nick Wharton
Non-executive chairman Geoff Cooper