BHS boss Darren Topp has issued a plea to the retailer's landlords and suppliers to back its proposed company voluntary arrangement (CVA).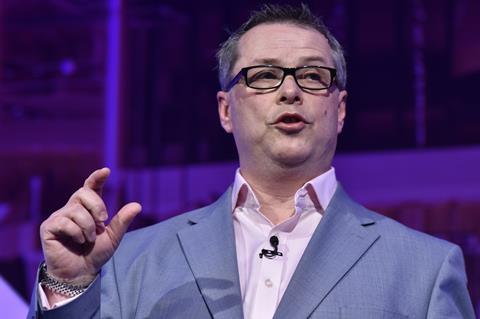 The department store retailer's chief executive used his keynote speech at Retail Week Live to map out his turnaround plan for the beleaguered business, before urging the audience to vote in favour of the CVA next week.
As previously reported, BHS is seeking rent reductions on more than half of its estate, while Topp also plans to reinvigorate the embattled retailer by cutting costs, restructuring and enhancing its proposition.
Having mapped out his three-step strategy to "reset, refocus and rebuild" the business, Topp said: "If there are suppliers and landlords in the room, please, we need your support next Wednesday."
Topp said they should back the CVA as part of his "clear plan for the business."
"We want to ensure that this iconic British brand is not only still here in 2028, but is fitter, leaner and more profitable," he added.
Topp admitted that a spiralling cost base – including property rents and head office costs – and style credentials that were "not strong enough" have formed the basis of BHS's problems.
"We want to ensure that this iconic British brand is not only still here in 2028, but is fitter, leaner and more profitable"

Darren Topp, BHS
In addition to the proposed CVA, BHS has already revealed plans to cut 370 jobs across its headquarters and stores as it tackles its financial issues.
But Topp is also getting to work on reviving the BHS proposition.
He said: "What is it this business is trying to do? Why should it exist? There are a lot of great retailers in our British high streets, so why should British Home Stores have a place? Why should any customer come to our stores?
"What we are trying to do is focus the business and what it is we want to be and who it is we want to serve.
"If you start with the customer, you need a really compelling target and brand proposition. You need to look at the product offer, you need to look at the plethora of house brands and then there is the value question."
Topp pinpointed BHS's "sweet spot" as mums aged between 40 and 60, and said it now needed to "create core ranges" by developing "a blend of style and classic appeal" within its clothing offer.
Brand strategy
He added that BHS would slash the "plethora" of its own labels because they had become "diluted."
"We have over 20 internal brands and it's just too many," Topp said.
"What you will see from the summer and into the autumn is significantly fewer brands, but they will be stronger, more powerful, and what they will have is some real equity with them because we will look at how we market those brands individually."
Topp insisted that a rejuvenated BHS still had a place on the British high street and issued a rallying cry to fellow retailers, the Government and landlords to breathe new life into the retail offer in towns and cities across the UK.
He said: "There is a real challenge with the British high street. It's down but not out.
"But if we are going to have vibrant, exciting, interesting high streets that families want to go to – not just to visit BHS but to go to other retailers, to go to the cinema and to eat – then collectively and individually we've got a responsibility to make these more interesting places to go that are safe, clean and where parking is easy and convenient.
"That's going to rely on retailers, local government, central government, the landlords, working together to rebuild these high streets."
Keep up-to-date with the latest from Retail Week Live
Don't forget you can follow all the latest news and analysis from Retail Week Live here.