Marks & Spencer has unveiled an imaginative customer membership scheme designed to transform its relationship with its shoppers.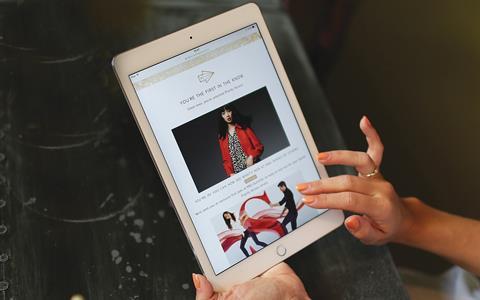 Sparks is designed to develop personalised relationships with M&S customers
Customers will receive points for product reviews as well as purchases
Launches nationwide next week after successful trial
The focus of the Sparks initiative will be on customer engagement and personalisation. The retailer's ambition is to deliver a 21st century version of the customer relationship and understanding typically associated with independent shopkeepers in days gone by.
Sparks is the latest in a line of offensives by retailers keen to forge one-to-one connections with consumers as they take advantage of the opportunities created by data and digital tech.
Etailer Shop Direct's Very.co.uk site, for instance, has a fully personalised homepage, while Waitrose's Pick Your Own Offers scheme gives myWaitrose cardholders money off products of their choice.
M&S chiefs emphasised that Sparks should not be seen as a traditional loyalty scheme – members may get greater rewards for reviewing products online, for instance, than for purchasing.
M&S marketing and international director Patrick Bousquet-Chavanne said: "It's going back to the roots of retail when a shopkeeper knew their customers and knew them by name."
M&S insights and loyalty director Suzanna Broer, who joined M&S last year from international retail giant Ahold, said: "Loyalty is the wrong word to use, it's about a new relationship with customers – recognition, relevance, tailored, and a conversation. We want to go beyond generic discounts."
The scheme will formally launch next Thursday but invitations have already been sent to selected customers and in-store shoppers can collect cards.
Points and rewards
Sparks members will build up points, not just on spending but for reviewing products or taking part in the retailer's Shwopping recycling scheme.
The points have no monetary value but customers will be rewarded with features such as tailor-made special offers and treats relevant to their interests – the wine in a Dine in for Two for £10 offer might be upgraded to Prosecco – and other benefits such as early access to the Sale online.
Bousquet-Chavanne said that the creation of Sparks was only possible because of M&S's investment in infrastructure and digital technology over the past few years and its move off Amazon's platform.
He said: "It would have been unthinkable to deliver the type of club we've delivered today with the capabilities of Amazon's platform."
M&S.com director David Walmsley said Sparks has been created using the methodology typically used by tech start-ups, when a product is 'co-built' with customers and adapted according to their feedback and insight.
Sparks was tested in 24 stores in Wales and among staff, and already has 100,000 members.
Sparks rewards
10 points for every purchase
10 points for every £1 spent
25 points for a product review
50 points for Shwopping