Sales at John Lewis increased 2.1% to £114.2m last week as Christmas shoppers snapped up hampers, digital cameras and Lego sets.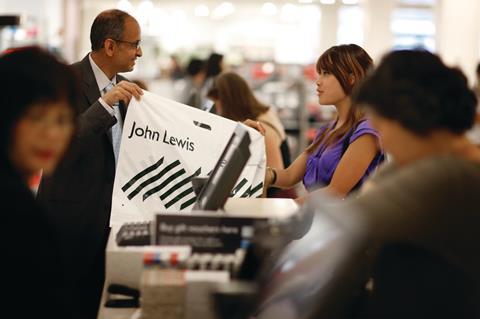 The department store group said sales were up 5% up on the previous week when turnover topped £100m for the first time this year.
Online sales leapt 13.4% in the week to November 22.
£114.2m

Sales at John Lewis last week
John Lewis said the sales increase came despite strong comparatives last year when Apple launched the latest version of the iPad.
Home goods was the best performing category across John Lewis, with sales up 5% year on year as customers bought festive products such as baubles, decorations and tree lights.
Further indicating that Christmas was on the minds of many shoppers, sales of hampers soared 70% year on year while people were readying their homes for the season with sales of Christmas trees up 24%. Sales of confectionary advent calendars bolstered 42%. Candles also proved popular with sales up 15%.
Fashion enjoyed a good week with sales increasing 3% as customers snapped up partywear pieces. Customers were particularly taken by Kin – John Lewis' in-house formalwear tailoring range, which saw sales surge 71%. Sales of toys increased 9%, helped by strong demand for Lego sets which saw sales spiral 46%.
Electrical sales performed poorly with sales down 0.8% as a result of strong iPad sales last year. GHD haircare products soared 52% while digital cameras surged 38%.
John Lewis online director Mark Lewis said: "It was pleasing to see sales surpass the £100m mark for the second consecutive week. Looking ahead to Black Friday, we're hard at work behind the scenes to ensure that our shops, distribution network and johnlewis.com are ready to meet increased demand and offer the high levels of customer service our customers expect."