Department store chain John Lewis has launched a concession partnership with US-based fitness brand Peloton in nine of its stores.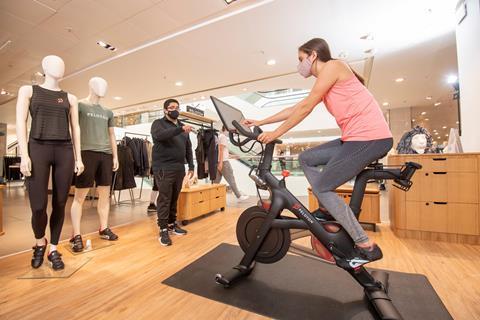 The tie-up was unveiled today at John Lewis' Oxford Street flagship store, where Peloton has taken a 1,400 sq ft concession. The brand will open a further eight such concessions at John Lewis stores across the UK.
John Lewis said the concessions were the first of their kind in the country and would give customers "the opportunity to experience the Peloton bike, with a personalised walkthrough, and learn from Peloton experts about the live studio experience they can subscribe to and enjoy at home".
The concessions will also sell Peloton-branded clothing alongside other athleisure wear brands such as Sweaty Betty, Stella by Adidas and Athleta.
Peloton launched its first range of in-home exercise bikes in the US in 2014 before expanding to the UK and Canada in 2018.
John Lewis fashion director Christine Kasoulis said: "We are constantly striving to source the best products and services to meet our customers' evolving wellbeing needs. We are extremely proud to be the nationwide partner for Peloton because they offer the ultimate experience when it comes to at-home workouts, which have become particularly important for many people this year.
"Peloton offers the highest product quality, with the energy of a boutique studio class in your living room, allowing our customers to achieve their goals whilst balancing their work and family life."
Peloton managing director of international Kevin Cornils said: "We're excited to be partnering with John Lewis, a company that is known for its innovative product offering and in-store experiences. Peloton is such a unique concept, and our retail locations, now including John Lewis, are a fantastic way to learn more about Peloton and to experience the bike in person."