Waitrose sales slump 24.1% in week to April 2
John Lewis posts 2.3% decline in sales
Partnership blames earlier Easter weekend for sales falls
Sales fell at Waitrose and John Lewis last week as the earlier Easter weekend impacted performance across the partnership.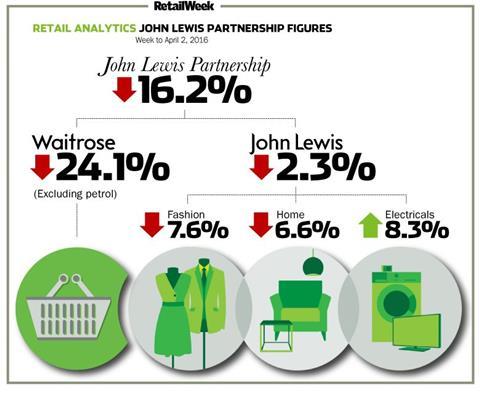 Upmarket grocer Waitrose posted a 24.1% decline in sales to £114.09m for the week ending April 2. However it said "a more meaningful comparison" against 2015's post-Easter week revealed a 1.8% uplift in sales.
Despite the timing of Easter 2015 providing a tough comparative, Waitrose said promotions drove "strong" sales in some categories, as non-food performed "particularly well" owing to the retailer's spring cleaning campaign.
Wines and spirits also posted "excellent" sales compared to the post-Easter week last year. Champagne sales jumped 28%, Waitrose said, while sales of whiskies and cognac advanced 21% and 24% respectively.
Ambient products were hardest hit by the timing of Easter, as sales within that category dropped 28.2% compared to the same week last year.
Meat, fish, frozen and dairy reported a 27.5% decline, while sales in Waitrose's chilled, fruit, bakery, vegetables and horticulture categories suffered an 18.9% fall.
John Lewis
The impact of this year's earlier Easter weekend was less stark at John Lewis, where sales dipped 2.3% to £83.33m.
When comparing the two weeks of trade either side of Easter to the same period last year, John Lewis said sales increased 9.4%.
The department store chain's electricals, home and technology division again proved the standout performer, as sales advanced 8.3% compared to the same week last year.
Apple products including the iPad Pro and iPhone helped boost sales in its communication technology category by 22.7%. Vision and large electricals also reported a "good" week, helping sales in electricals, home and technology rise 18.9% over the two-week Easter period.
John Lewis said the lack of comparable Easter trade last week had a bigger impact on its home category, which posted a 6.6% decline in sales year on year.
But big-ticket items performed well as beds enjoyed a 26.7% uplift in sales, while dining furniture advanced 3.7%.
Fashion sales dropped 7.6% compared to the same week last year as cooler weather dented sales. But John Lewis said handbags and women's shoes bucked the wider trend, as sales increased 4.3% and 6.1% respectively.