John Lewis sales tumbled 5.9% to £71.96m last week as the department store group was hit by warm weather and tough comparables.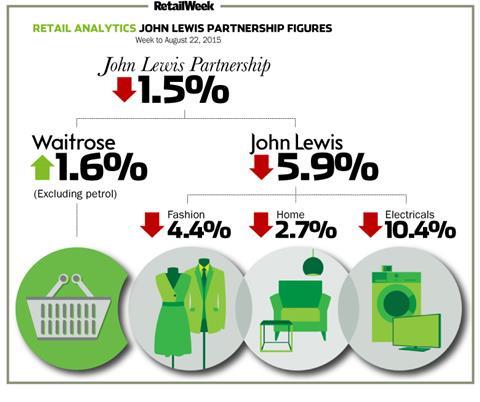 Sales in all categories at John Lewis decline
Electricals the worst performing category again
Waitrose sales up 1.6% excluding petrol
The department store group said the sunny weekend and the comparison with the bank holiday weekend a year ago hit sales.
Fashion was down 4.4% despite back to school being in "full swing" and summer lines still doing well.
Home sales fell 2.7%. Outdoor living products performed well along with new furniture and accessory lines.
Electriclals sales slumped 10.4%. John Lewis said a "great highlight for the week" was the introduction of mobile phones, which launched at John Lewis Cheadle. "Customer feedback so far has been very positive," said Liz Mihell, head of selling, at home, John Lewis.
Online sales increased 6.1%
Mihell said: "Looking ahead, there are clear opportunities this weekend in making the most of the bank holiday footfall and also the peak days of back to school."
Waitrose sales
At sister retailer Waitrose sales excluding petrol rose 1.6% to £119.68m last week, "slightly distorted by the equivalent week last year including the build-up to bank holiday", said Waitrose marketing director Rupert Thomas.
He said a week of mixed weather saw a "diverse range of shopping trends".
Sales of prepared cans of spirits and mixers were up 29% as people prepared for festivals and events. Packs of sandwiches and snacks to eat on the move increased 11%.
Waitrose sold double the number of rain ponchos and umbrellas than last year.
Sales of frozen fruit jumped 30% as the trend for smoothie making continues.