John Lewis sales up 3.8% last week
Waitrose sales rise 3.3% driven by Mother's Day
Waitrose online sales jump 14.1%
Bellwether John Lewis has reported a 3.8% rise in sales to £76.76m in the week to February 27, while Waitrose posted strong online trading.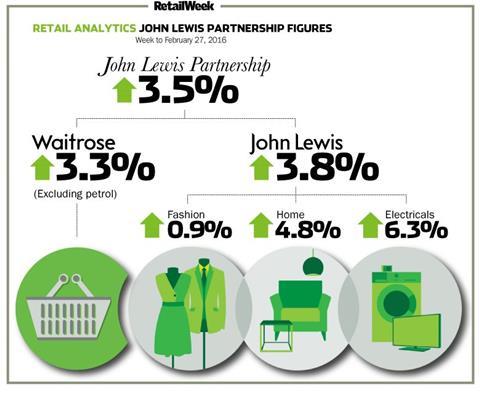 Home sales increased 4.8% driven by furniture, which was up 11.2%.
Electricals and home technology turnover was up 6.3% while fashion sales edged up 0.9%.
Waitrose said strong online performance helped drive overall sales at the grocer up 3.3%. Online sales jumped 14.1%.
Waitrose finance director Loraine Woodhouse said sales were also driven by shoppers preparing for Mother's Day as they snapped up gifts including candles and vases.
Sparkling wine sales were up 6.8% and Champagne up 4.8%.
Sales including fuel were up 3.4% to £125.6m.