A legal battle between House of Fraser and landlords opposed to its controversial CVA has been settled out of court.
The agreement, terms of which have not been revealed, allows the department store group to proceed with store closures as part of its turnaround efforts.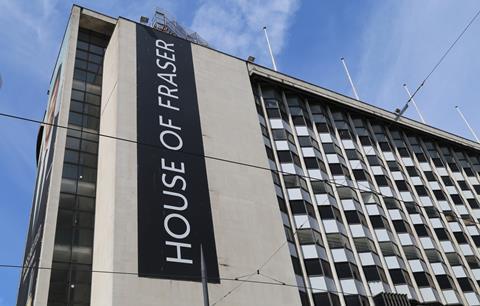 However, House of Fraser still needs new investment to ensure its survival.
Mark Fry of Begbies Traynor and Charlotte Coates of JLL advised the group of landlords on the CVA and legal challenge.
They said: "We can confirm that our landlord group has reached an agreement in principle with House of Fraser in recognition of our claims.
"The terms of the settlement are confidential but we can confirm that we have agreed to withdraw our legal challenge to the CVA.
"Although we will not have our day in court, we are pleased with the outcome and hope that our landmark legal challenge sends a clear message to any other companies considering a CVA, on the importance of transparency and fair treatment for all creditors throughout a CVA process.
"Landlords are always willing to enter into a proper dialogue with companies and their advisers with the aim of rescuing a business.
"However, the retail CVA process in the UK has become increasingly misused and prejudiced against landlords and needs correcting. CVAs were designed as a means to rescue a business, not simply a tool to shed undesirable leases for the benefit of equity shareholders.
"It remains our belief that applying a 75% arbitrary discount to the value of landlords' claims is not the market norm and has no basis in law.
"We believe that thanks to our actions, landlords in future CVAs will be in a far stronger position to challenge what we regard as unfair treatment and demand greater transparency from companies and their nominees from the outset."
The deal removes one obstacle from House of Fraser's turnaround attempts, but it still needs fresh investment following the apparent decision by Chinese retailer C.banner not to proceed with a deal that would have brought a cash injection of £70m.
Sports Direct tycoon Mike Ashley is unlikely to go ahead with a rescue offer, the Sunday Times reported.
However Edinburgh Woollen Mill boss Philip Day may still come to House of Fraser's aid. Specialist investor Alteri has also held talks with House of Fraser.