House of Fraser believes Black Friday is set to get "bigger and bigger" and has shrugged off concerns from other retailers about the event.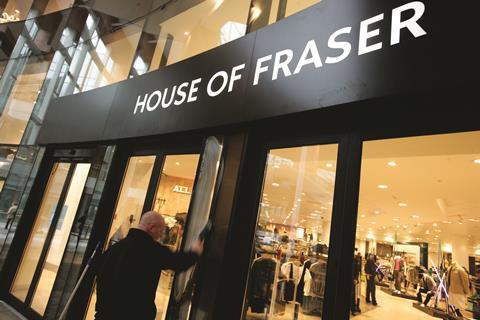 House of Fraser recorded a 125% year-on-year jump in online sales on Black Friday, and was up 70% on its previous biggest online sales day.
The department store retailer shrugged off concerns by other retailers that the compression of sales into one day is not in the sector's best interest.
John Lewis boss Andy Street told Retail Week yesterday it is "not in the industry's interest to focus so much trade onto one day".
Other retailers have expressed concern over the margin impact and their ability to fulfil Black Friday orders.
But House of Fraser chief financial officer Mark Gifford said: "It's really taken off this year, more than any other year, and consumers are genuinely getting great value.
"In many respects, it is here permanently and it will get bigger and bigger. We sold out of many lines this year in the first hour. We sold out of many key lines because we underestimated the full strength of the event.
"It is something that we will continue to grow over time; our customers really enjoy the event."
Logistics planning
While the popularity of the Sales event came as a surprise, chief operating officer Nigel Oddy emphasised that House of Fraser had worked closely with logistics providers and ensured that there were sufficient people working in its warehouse to ensure that orders were fulfilled.
The retailer discounted deeply over Black Friday, but overall margins were up by approximately 30 basis points over the Christmas period, covering the six weeks to January 3. In that period like-for-likes were up 8%.
Gifford said premium products performed well across the business before Christmas. Both Jo Malone and Ted Baker sales were up over 50%, and there was double-digit growth for brands including Hugo Boss and Ralph Lauren, which did not go on Sale until after Boxing Day.
Online sales soared 31.2% over the five-week period and Gifford said that this year is the first that the retailer's online business will have a higher profit margin than the store business.
"That's a real turning point," he said. "It's not just our biggest sales channel, it's more profitable to sell our products online than it is to sell them our stores. And that's a great achievement."
The improvement in margin is down to House of Fraser increasing volumes sold online.
"Your rent bill for your distribution operation stays fixed, but as the scale grows, the margin increases, you're able to drive a better overall return. We've driven a lot of overall efficiencies from a logistics and marketing standpoint," said Oddy.
"For example, all of our buy and collect deliveries are done on our own feet. It doesn't cost any more to transport merchandise to our stores, because the trucks are going to our stores anyway."