Harrods has swung to a loss after store closures during the pandemic and the impact of Brexit slashed sales in half.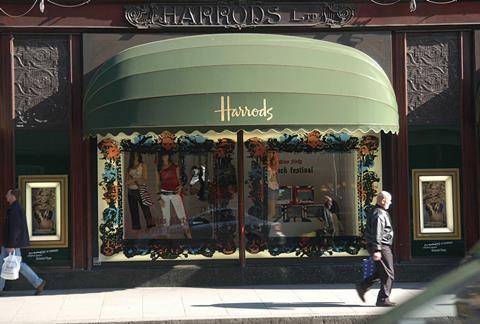 The luxury department store business reported a loss after tax of £57.3m for the year ended January 30, 2021, compared with a profit of £203.3m the prior year. Turnover slumped 50.7% to £429.5m in the same period.
Harrods also suffered an operating loss of £66.4m compared with an operating period of £203.3m in 2020.
Harrods described the Covid-19 pandemic as a "significant challenge", citing the impact of the lockdowns and subsequent store closures as reasons behind the "large reduction in sales activity".
It stated that its online channel experienced year-on-year growth, reflecting the rapid shift to ecommerce since the onset of the health crisis.
The department store also referenced the impact of Brexit as an ongoing risk. It said: "It is anticipated that the predominate impact of Brexit on Harrods Limited revolves around the removal of the Retail Export Scheme that came into effect from January 1, 2021."
However, it added that it is not possible to gauge the effects of the removal of this scheme at present "given international travel has still not returned to pre-Covid levels".
Harrods estimated that it will incur additional importing costs of £500,000 per year due to Brexit regulation, a figure that currently stands at 20% of total exports. It explained that it expects the costs will eventually be higher as its suppliers raise prices.
The retailer cautioned that it is also exposed to currency risk as approximately 12% of purchases are contracted in foreign currency.
Never miss a story – sign up to Retail Week's breaking news alerts