Sales at John Lewis were "mixed" last week as a strong performance in the home category was offset by the impact of mild weather on apparel.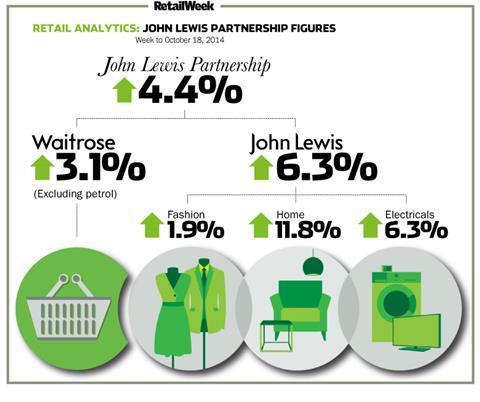 John Lewis recorded a 6.3% rise in overall sales to £80m in the week to October 18, when online sales climbed 25.9%.
Sales of home goods were ahead 11.8% year on year, boosted by demand for furniture such as beds and floor coverings.
Electricals and technology was up 6.3%, driven by tablets and other computers.
Although there was little shopper appetite for winter clothing, sales across fashion rose 1.9% as categories such as nursery and premium beauty did better.
John Lewis director of selling, North and new format, Maggie Porteous said: "This week we see schools breaking up for half term across the country, the traditional start of customers' minds turning to Christmas.
"Across John Lewis we are all set, with the shops sparkling with their new Christmas decorations, the Christmas Annual now being read across the country and our contact centres and distribution centres all ready for the uplift in activity."
Sales at sister grocery retailer Waitrose rose by 3.9% to £120.5m over the week, helped by Halloween preparations.
Waitrose's year-on-year sales of Halloween decorations and confectionery were up 40% and 10% respectively, while apples were ahead 10%.