Retail footfall dipped 0.4% in October as high streets and shopping centres stemmed the rate of decline in shopper numbers.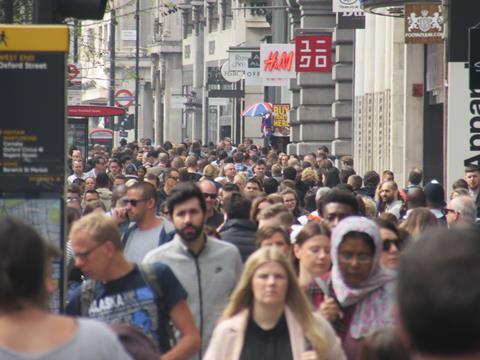 According to the latest BRC-Springboard Footfall and Vacancies Monitor, customer traffic in malls fell for the ninth consecutive month, although the 1.8% drop marked an improvement on September's 2.5% downturn.
High street footfall slipped 0.4% year-on-year, although that was also an improvement on the 0.5% decline recorded in September.
Retail parks bucked the trend as the only location type to grow shopper numbers during October.
Footfall in the out-of-town locations grew 1.1% in the four weeks to October 29 after a flat September, the BRC-Springboard data revealed.
The overall 0.4% decline in footfall across all locations was better than the 0.9% fall suffered in September.
Bricks-and-mortar challenge
BRC chief executive Helen Dickinson said the figures illustrated "the challenges facing bricks and mortar retailers" as shoppers increasingly turn to online ahead of Black Friday and Christmas.
"Interestingly, October's BRC-KPMG Retail Sales Monitor showed a 1.7% increase in like-for-like sales growth across the country, which perhaps suggests that shoppers may still be prepared to shell out for a bargain, but they are increasingly doing so from their laptops or mobile devices," Dickinson said.
Springboard marketing and insights director Diane Wehrle insisted that worries about economic uncertainty were "not yet negatively impacting footfall".
She added: "Much has been made of the rise in clothing sales in October; however, the ongoing drop in daytime footfall demonstrates challenges in attracting shoppers to bricks and mortar stores."
Vacancies down
The national town centre vacancy rate improved from 10.1% in July to 9.5% in October.
The fall in the proportion of empty shops comes after back-to-back quarters of growth, although the 9.5% vacancy rate remains above the January low of 8.7%.
Wehrle said the improvement in the vacancy rate mirrors the trend last year, when short-term lets in the run-up to Christmas drove down the number of empty shops.
She added: "In order to avoid the same pattern of an increase in vacancies post-Christmas repeating itself, it is critical for retailers – and retail destinations – to deliver the best in class in terms of both price and experience."