In a ferociously hard-fought retail environment, attracting and retaining the best staff can make a competitive difference.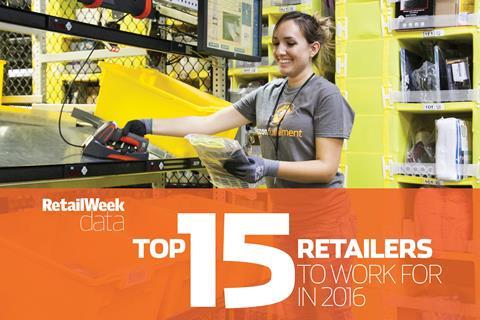 Retailers have made big efforts to highlight the career opportunities the industry offers and to pitch themselves as excellent employers. But which are the best according to staff?
Retail Week teamed up with jobs site Glassdoor to create this list.
Top 15 retailers to work for

| Rank | Retailer | Average rating out of 5 | Example employee comment |
| --- | --- | --- | --- |
| 1 | Ao.com | 4.5 | "The job can be really hard at times, but it's worth it in the end, the salary and commission earnings are great along with all the benefits given. I have referred four ex-colleagues and friends to Ao and they are really enjoying the job as well." – Ao sales executive, Manchester |
| 2 | Topman | 4.2 | "Great benefits and culture and staff always open to new ideas." – Topman senior sales associate, London |
| 3 | Ikea | 4.0 | "Love Ikea values. You feel part of a big project." – Ikea sales co-worker, Bristol |
| 4 | Schuh | 4.0 | "Good holiday allowance that increases over time. Company dedicates lots of time and money on staff training." – Schuh sales assistant, Newcastle upon Tyne |
| 5 | John Lewis | 3.9 | "Good pay, relaxed workforce, numerous benefits, good management, nice working environment, friendly staff and management, relaxed work attitude." – John Lewis stock management partner, London |
| 6 | Lush | 3.9 | "Support systems in place and I never felt I had to deal with my problems alone. Enjoyable job where I could meet lots of people every day. Great products and ethics with an amazing discount!" – Lush sales assistant, Leeds |
| 7 | Games Workshop | 3.9 | "You get to work in a place surrounded by your favourite hobby. The potential for sales-based rewards is huge. Most of the managers help each other out. Also, you get a sizeable discount." – Games Workshop store manager, London |
| 8 | Waitrose | 3.9 | "The management often roll up their sleeves and help on the shopfloor. The pay is boosted by the annual bonus, which is always very welcome after Christmas. Workers have a say through a democratic system that allows anybody to potentially change the business." – Waitrose customer delivery driver, Saltash |
| 9 | Fat Face | 3.9 | "Amazing team spirit within the stores I was based, range of locations. Relaxed atmosphere with emphasis placed upon the customer, not targets." – Fat Face employee |
| 10 | Harvey Nichols | 3.9 | "Staff, atmosphere, discount and benefits. Company is going in a new direction and it is an exciting time for all." – Harvey Nichols assistant manager, Leeds |
| 11 | Charles Tyrwhitt | 3.8 | "Fun and friendly team to work with. Great career progression, achievable targets and plenty of perks to boot. Genuinely a very nice company to work for." – Charles Tyrwhitt customer service trainer, Milton Keynes |
| 12 | Game | 3.8 | "Good holidays, good pay, friendly people, nice environment, good bonuses, interesting customers, discounts on games and stuff, comfy uniforms, not too stressful." – Game sales assistant, Coventry |
| 13 | Whole Foods | 3.6 | "A lot of autonomy, creativity and empowerment. I have been able to have a family and grow my career." – Whole Foods regional leadership co-ordinator, London |
| 14 | Harrods | 3.6 | "Great salary packages, benefits and a world of unparalleled culture to work with – it is truly in a class of its own and cannot be compared to any other business." – Harrods luxury sales associate, London |
| 15 | HMV | 3.6 | "With over 20 years' experience of working for HMV across a variety of roles from managing stores, large and small, to head-office positions, I had a fantastic time and made many true life-long friends along the way." – HMV employee, London |
Only retailers with at least 20 reviews on Glassdoor have been included. Ratings are out of five. Ratings go to the thousandth and are rounded up. All data from UK employees as of May 5.