Fortnum & Mason's charismatic chief executive Ewan Venters talks Christmas, keeping up with food trends and what the future holds for the 312-year-old retailer
Moving from the tungsten-light bathed boardroom with its Christmas tree through to his private office, Fortnum & Mason's chief executive Ewan Venters smiles. "Fortnum's and Christmas is quite synonymous, isn't it?" he says. The sentence framed more as a statement than a question.
It's hard to argue with. As the nights draw in and Christmas gets closer, the food retailer's Piccadilly flagship pulls crowds of tourists and Londoners alike to gawp, take pictures of the building's festively effervescent exterior and famous window displays – and to snap up its delicacies.
Venters is pleased with this year's seasonal windows. The store's windows overlooking Piccadilly feature displays of red-coated cats operating animatronic machinery dispensing gifts – all a play on the word 'catalogue'.
"This year, you'll see in every single one there's animation, something happening and moving," says Venters with a Cheshire cat grin on his face. "That's a really special part of creating new memories for our customers."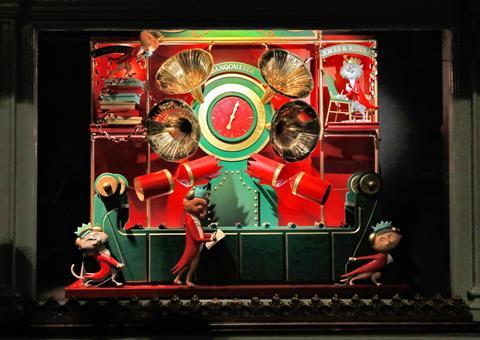 A shopkeeper at Christmas
For Venters "creating memories" often is central to Fortnum's enduring appeal.
During his time at the helm, Venters has worked hard to change the make-up of the core Fortnum's customer. While once the majority of its trade came from cash-rich tourists, Venters is proud to say that about 60% of Fortnum's customers are now local Londoners, as keen to enjoy the experience of the store and create their own memories as any once-in-a-lifetime visitor from overseas.
To cater to those customers in the run-up to Christmas, Venters always cancels all but the most important meetings for himself and the executive team.
"The month of December for shopkeepers is all about being on the floor," he maintains. "It's all about being in our depots. I get around all of the stores, have a cup of tea with our suppliers.
"Sometimes you need to say: don't hold meetings. Don't be locked in offices. Get out on the shop floor and in the restaurants. Go and visit the competition even. Just be a part of it."
The day before being interviewed, Venters was in Cambridge at one of Fortnum's warehouses. One of retail's more active chief executives on social media, he marked the visit by posting a video of himself working on the line packing one of Fortnum's famous Christmas hampers, straw and all.
This year, Christmas trading is a little different. The first December election since 1923 is being held and Venters says retailers and customers alike long for "certainty". It's pointless to try and make predictions, he acknowledges.
"[December 12] is our busiest online trading day of the year. It'll be interesting to see if that has any impact. We can make predictions and have forecasts about what might happen, but none of us knows really," he says.
Modernising Fortnum's
Now in his eighth year at the helm of the luxury department store and food retailer, Venters has overseen a revolution of Fortnum & Mason's fortunes.
During his tenure, he has taken the business from strength to strength financially and branched out into a number of satellite locations around London – at Heathrow Terminal 5, St Pancras station, Somerset House and, most recently, the City's Royal Exchange.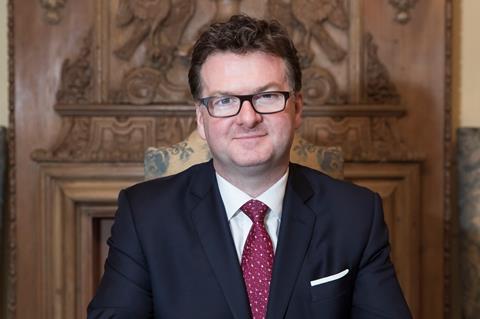 Venters says the new locations have helped introduce a new generation of people to a brand that was perhaps in danger of seeming old-fashioned.
"Look at say Somerset House and what we do with the skating, the ice rink and arcade, " he says. "That's an example of Fortnum's creating new memories for families. It's really encouraging to see the number of customers who engage with us for the first time at Somerset House and then come to Piccadilly to really understand what the brand stands for."
Fortnum's latest venture has pushed the quintessentially London brand presence even further. In late November, Venters opened a Fortnum's branch in the K11 Musea development in Hong Kong.
Fortnum's had a concession presence there through department store chain Lane Crawford for the last five years or so. However, Venters says the opening of the 7,000 sq ft premises – which includes a retail store and a restaurant with panoramic views looking back to Victoria Harbour from Kowloon – is one of his "proudest moments" of the year.
The political upheaval gripping Hong Kong has been grabbing headlines around the world and, as the pro-democracy protests continue, some businesses have struggled.
Despite the unrest, Venters says he was heartened when he travelled there for the opening of the new flagship and is confident that Hong Kong and its people will come through the turmoil.
"My faith and positivity come from the fact I've spent the last six or seven days there. I was on the ground, meeting a lot of people and there was enthusiasm. Yes, there's cautiousness, but also a belief in the spirit of Hong Kong," he says. "It remains a vibrant place and a city that has the capability of bouncing back strongly."
While trading is at an early stage, Venters says the store has been meeting between 50% and 55% of its weekly trading targets which, given the turbulence, "is hugely encouraging". He also says that the restaurant has received more than 4,000 bookings for the month of December.
Venters also waxes lyrical about the K11 Musea site itself – the brainchild of Hong Kong-based billionaire Adrian Cheng.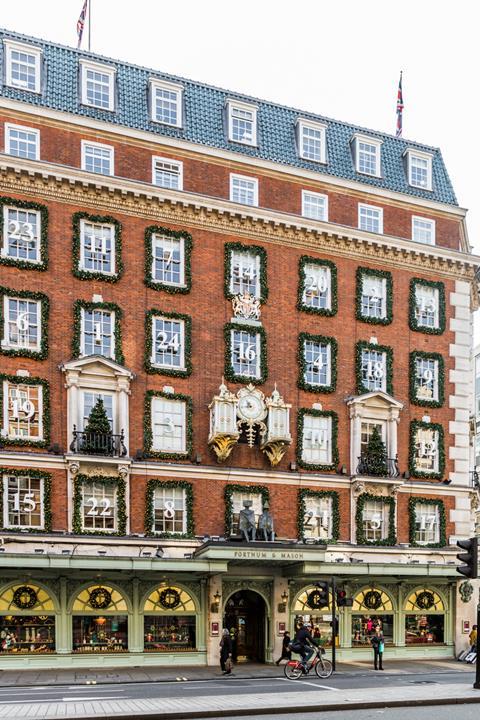 The 1.2 million sq ft complex which sits by the waterside at Tsim Sha Tsui in Kowloon, has been described by its owner as "the Silicon Valley of culture". For Venters, the location is about far more than retail.
"It's more than just a shopping centre, it's a new destination," Venters says, taking umbrage with the apparently erroneous description of the K11 as a 'shopping centre on steroids'. "The K11 Musea is a new retail destination in the world and we are proud to be a part of that."
The future of department stores
That leads on to a much-discussed subject: the future of department stores. As long-established UK department store groups such as Debenhams and House of Fraser have suffered in a brutal trading environment, what do such retailers need to do to survive and thrive in future?
Venters returns to the customer and says Fortnum's has never forgotten the need to remain relevant to consumers in a changing environment.
"Fortnum's has always stayed on top of trends. To stay in business, its management teams over the decades have always identified with changing consumer tastes and habits," he says.
Fortnum's has begun tailoring its food offerings more towards the growing number of flexitarians, and 15% of its dining options are now vegetarian or vegan. He also hails the "great innovation" that is Fortnum's sparkling tea, which caters to a growing trend among consumers for drinking less alcohol – particularly in the millennial and Generation Z demographics.
The retailer has also been making its products and supply chain more sustainable. Venters says that 76% of the products it sells is either fully recyclable or sold in reusable containers.
Fortnum's does not send anything to landfill and by the new year, no own-label food products will contain palm oil.
But Venters acknowledges there is always more that can be done.
"Let's not just assume that what appears to be the in-thing to do is the right thing," he says. "Let's make sure that we're always considering all aspects of the sustainable agenda before we make further changes."
Building on success
After a busy 2019, Venters says 2020 will be a year of bedding in all the changes made this year and building on the growing success of the business.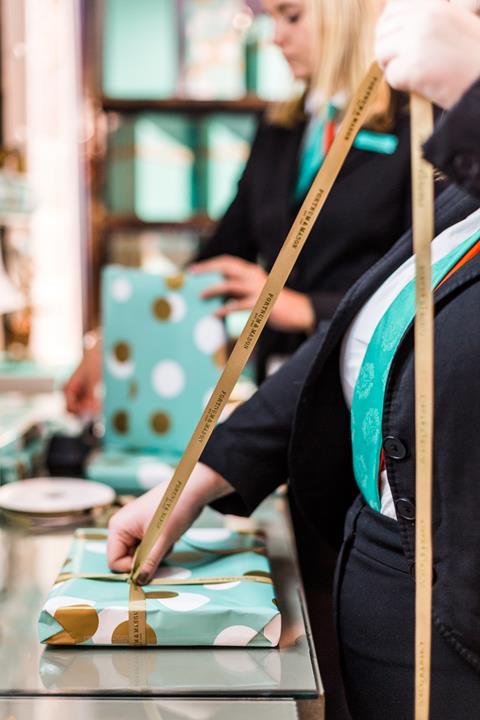 "Retailers are sometimes guilty of chasing after the new too fast," he argues. "Actually, the real trick is to take the projects that we've launched and really embed them and ensure they're optimised to the best of their abilities."
Having overseen a year when pre-tax profits leapt 26% to £12.1m and sales jumped 12% to £138m, Venters could perhaps be excused for enjoying the fruits of his labours.
But despite having worked in retail for more than 30 years, Venters is still excited by the opportunities the industry offers, particularly for the next generation of retailers.
"I started my career at the age of 16-turning-17 as a management trainee at Sainsbury's and I became the chief executive of Fortnum's just before my 40th birthday. The thing about retail is that if you're determined, hard-working and focused, you can achieve anything you like," he says.
As the interview comes to a close, Venters pauses and looks around with a smile on his face. "This is my eighth Christmas as chief executive and I still come in and pinch myself with sheer joy and excitement that I'm here."
Given what the business has achieved, it's easy to see why.