Retailers are aiming for engagement with truthful tales of Christmas, but which are the best Christmas adverts of 2012?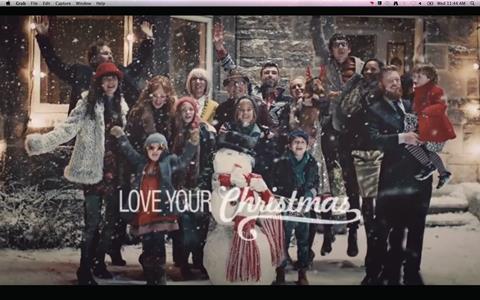 In previous years, retailers fought valiantly to keep any mention of the recession well away from the glitz and glamour of their Christmas campaigns. But 2012 will go down as the year that economic gloom was allowed to rain on the festive parade.
Advertising that aims to reflect the reality of Christmas is this year's big trend – with some notable exceptions including, of course, John Lewis' now traditional tear-jerker.
'Harassed Mum' is the star of several campaigns and many feature small but well-observed insights into what the British family Christmas is really like. Beautifully dressed trees and well-behaved families overwhelmed with goodwill have been kept to a minimum.
Retailers are very keen to avoid appearing "over celebratory", explains Russ Lidstone, chief executive of advertising agency Havas.
He adds: "It is really interesting to see how they are trying to reflect the cultural backdrop of the great stagnation we are now in. It's a lot less romanticised this year."
Saatchi & Saatchi head of planning Rachel Lawlan says a number of retailers have made a series of ads rather than just one.
She says: "If feels to me like retailers and their agencies are finally taking a lesson from social media about varying the conversation."
It's not a winning strategy for everyone, though, with some critics labelling ads as "miserable and lazy" and "laced with outmoded sexism". With this in mind, we take a look at the year's key campaigns.
John Lewis
The premise: A snowman goes to great lengths to get the right gift for his snowwoman. His adventures are set to a cover of Frankie Goes To Hollywood's The Power of Love, which has been re-arranged in John Lewis' signature mournful style.
Lidstone's verdict: "I think John Lewis has got second-album syndrome. You inevitably compare it with last year because the ads have become the perennial Christmas talking point.
"It is beautifully shot and charming but it is not as resonant as last year's, because, ultimately, we already know that John Lewis sells gifts. Last year's was based on a much more powerful insight about the way you want to feel about giving a gift.
"On the plus side, it offers the continuity that is lacking across a lot of the other ads this year. The style, tone and execution make John Lewis the most consistent performer. You know it is going to be a John Lewis ad when it comes on."
Asda
The premise: A put-upon Mum single-handedly prepares and hosts Christmas while doing the housework and looking after the kids. The ad has drawn fierce criticism for its sexist view of British family life, leading to 506 complaints to the Advertising Standards Authority (ASA).
Lidstone's verdict: "I think it is well-intentioned and Asda understands its audience. It blends the three challenges at this time of year, which are how to drive trade, promote products and create an over-arching brand message. Asda is really trying to demonstrate how it can help.
"There are some really charming touches in there – I love the way mum ends up sitting on the poof, so much of it is true. However, it is let down by the contrived note when the dad asks what's for tea at the end."
Waitrose
The premise: Brand ambassadors Delia Smith and Heston Blumenthal stand in an empty studio to promote Waitrose's Community Matters charity scheme and explain that the grocer can give more by scrapping the usual trappings of Christmas advertising.
Lidstone's verdict: "It is quite brave as it is a different approach, but it is on TV a lot and I think most sensible people know that must have cost a lot of money. If [Waitrose managing director] Mark Price was in it explaining that instead of making an ad the retailer was giving the money to charity and it had been shown once during The X Factor, it would have a slightly different meaning. It comes across as slightly smug."
Lawlan's verdict: "The cynic in me thinks this is just something to make Waitrose's wealthy clientele feel better about themselves for spending all of this money on food at Christmas.
"However, I do like the fact it is followed up in-store. It cuts through and is a brilliant rebuff to the current trend for mawkish Christmas ads."
Morrisons
The premise: Another mum faces the inevitable onslaught of Christmas – including wrestling the turkey and serving a never ending queue of friends and family. Critics of the Asda campaign found things to dislike here too, and the ASA has received 17 complaints.
Lidstone's verdict: "If you wrote the strategy down it would be the same as Asda's but Morrisons has leavened its ad with a degree of wit and charm and surrealism that has allowed it to step away from the criticism.
"I think it is well-directed, well-cast and nicely executed, so it scores on many fronts. However, I think it is lacking the brand glue that would make it recognisably a Morrisons ad."
Lawlan's verdict: "I like that it is based on a real insight that Christmas does not happen by magic and that it takes a lot of hard work.
"I love the little observations that have been treated in this hyperbolic way – wrestling the turkey, needing 20 hands – and I love the bit about useless helpers and that the mum looks so grim and depressed."
Marks & Spencer
The premise: A range of Marks & Spencer's 'greatest hits' products are showcased through choreography set to some well-known pop songs.
Lidstone's verdict: "It reminds me of a Gap advert circa 2002, which I think is a real shame. It is evidence of a brand that has lost its confidence."
Lawlan's verdict: "It's shot beautifully but it falls completely flat. It feels like it has lost the spirit of Your M&S and is just a brochure with a range of Christmas situations."
Debenhams
The premise: A woman heads home for Christmas, passing designers working on party dresses and accessories in their London studios. Her train speeds through a snowy landscape passing open windows showing excited children and the obligatory woman-in-her-underwear shot before she arrives at her quaint, Christmas tree-lit village.
Lawlan's verdict: "In a year marked by retailers creating more compelling campaigns, I felt that this was a bit like Christmas wallpaper. It wants to be super stylish but there are too many Christmas clichés in it – it just feels unremarkable.
"Only in Christmas advertising is it perfectly okay to have a shot of a lingerie model then cut to happy kids, which is quite strange. You wouldn't get that in any other form of advertising."
Tesco
The premise: A music-laden series of 16 separate short vignettes showing Tesco's range of food and non-food products in key Christmas moments. The ad also promotes the grocer's click-and-collect service and its food bank initiative, which encourages shoppers to buy extra food to donate to charity.
Lidstone's verdict: "Charming vignettes, but collectively the question is does it add up to a campaign and stick in the memory? Potentially the Furby execution does but it's not really saying much about Tesco other than it has some non-food."
Lawlan's verdict: "The multiple execution strategy works well and the end of the advert makes it clear it is Tesco.
"However, if you aren't paying attention when the advert comes on, the music is not necessarily attributable to Tesco and isn't obviously Christmas music. Paying large sums to be on TV and not paying attention to your branding is quite risky."
Boots
The premise: After five years, the beauty giant has scrapped 'Here Come the Girls' in favour of a position around its new strapline, 'Let's Feel Good'. The series of ads introduces a number of Christmas storylines centred around real families.
Lidstone's verdict: "This is my favourite campaign. It is beautifully done and celebratory of Christmas and you can empathise with the moments in the vignettes. Ultimately, it is a hard-nosed commercial communication as you can reel off four or five products it is selling, but I think it is a good blend of driving sales and some nice Christmas tales. It is more holistic than the 'Girls' campaign because it features men, women and children."
Lawlan's verdict: "I like this – it chimes with the times. Some of the moments are brilliant, particularly the bizarre things we do when we are locked up together at Christmas. I like the little girl hairdrying the dog into a unicorn and the other little girl painting her granddad's toenails. The actors are all brilliant too."
Sainsbury's
The premise: Based around the idea that Christmas is more than just one day, this series of 14 ads focuses on the festive moments that happen in the run-up to the big day.
Lidstone's verdict: "The Jamie Oliver ads were a tough act to follow but the grocer hasn't tried to replicate them – it has gone for quite a different approach and executional feel and it works well."
Lawlan's verdict: "I don't think Sainsbury's pulls off the multiple ad strategy. There are some lovely moments but I felt like I was being sold to in quite an obvious way."
Aldi
The premise: Taking a swipe at its higher-end rivals and noting that value grocers are increasingly attracting wealthy shoppers, Aldi's ad opens on a beautifully dressed table featuring glossy seasonal food. To the strains of It's Beginning To Look A Lot Like Christmas, a voice-over tells the viewer that it's not an ad for Harrods or Waitrose but, in fact, Aldi.
Lidstone's verdict: "The message is brave and strong but the trouble is it reminds you of the places that you would probably rather be shopping at Christmas. The 'It's beginning to look a lot like Aldi' line is interesting because it is saying, 'We're not quite what you want but we are on our way to being it'. It is a statement of its mission but I think this is something of a misfire."
Lawlan's verdict: "It is a simple message – why pay more? – and the ad is done in a nice way featuring crisp table linen, silver cutlery and nice crockery. It looks great and I suspect it's going to do a good job of pulling people in from that wealthy demographic."
TK Maxx
The premise: Featuring TK Maxx branding at the top, its ad shows various members of a family laden with gifts making their way home in the snow and posing for a family photo.
Lidstone's verdict: "One of the more surprising ads of the bunch. It is a manifesto of intent about imploring you to love Christmas. I think it puts the brand up at the front because it was concerned that it wouldn't be recognisably TK Maxx. It is celebratory and it does what it says on the tin."
Lawlan's verdict: "It has every Christmas cliché going – trains, going home, family reunion. It doesn't stand out. I found the idea of the "gift genius" [one of the characters noted by the voice-over] interesting and I wish it had made more if it."