The evolution of Tesco clothing brand F&F continues with a campaign promoting the fashion credentials of its new summer collection.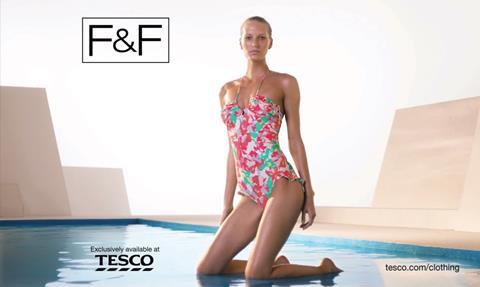 Like last year's campaign, the new advert continues to give the F&F branding increased prominence and has few links to Tesco's own corporate identity.
Backed by a trendy electronic soundtrack, the ad shows two models posing around a swimming pool looking seductively at the camera.
The campaign is far more edgy than what consumers will associate with Tesco and rival supermarkets, which tend to adopt a more family focus.
F&F now generates sales of more than £1bn in the UK and continues to battle stiff competition from Sainsbury's Tu and Asda's George clothing collections. The latter has recently launched a safer, more price-led campaign.
The F&F ad takes a different tack and highlights the stylish quality of the clothes in a manner more akin to high street fashion retailers.
The campaign is a risky tactic as the sexy creative could be at odds with its target audience of young mums shopping for themselves and their children.
However, the modern mother isn't necessarily looking for the frumpy frocks of yesteryear, so a more fashion-focused offer could be ideal to differentiate it from its supermarket rivals.
Like Asda's George, Tesco is aiming to give the brand a life of its own, especially after providing F&F with a segregated presence in some stores, so now might be a good time to showcase its own fashion credentials.