The young fashion retailer thrived in the recession but times could be about to get tougher.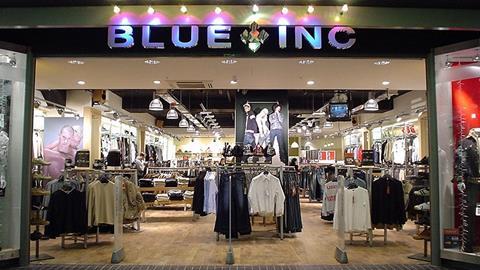 Fashion retailer Blue Inc has manoeuvred itself into a strong position over the last decade through a process of brand expansion and acquisition.
The retailer, which traditionally operated in London and the Southeast, was born out of the Mr Byrite chain and has accelerated expansion in the last six years under new ownership.
Founded as A Levy & Son in East London in 1912, the menswear specialist originally positioned itself at the value end of the market.
Under a new generation of family ownership, the retailer developed a new upmarket format in the 1990s and, at the end of that decade and the start of the next, transformed into what is now Blue Inc.
In February 2006, with a total of just over 30 stores, A Levy & Son was acquired by Marlow Retail led by Steven Cohen, prompting the departure of the last remaining Levy family members in the business – joint managing directors Jonathan and Robert Levy.
Marlow's strategy from the off was to expand and the company wasted little time in opening 20 new stores by 2008.
They included a flagship store on London's Oxford Street, and elements of its design have subsequently been rolled out across the chain.
The growth programme was stepped up further and the retailer now has 130 stores.
Blue Inc's most significant move in the last two year was the acquisition of 46 Officers Club stores in March 2011. Blue Inc had a strong London and Home Counties bias, despite expansion, and the purchase of Officers Club shops extended its coverage significantly, taking the retailer into Scotland for the first time and strengthening its presence in the Northeast of England and Wales.
Blue Inc then bought a further eight Officers Club stores, rebranding them as Blue Inc before opening. The company has now converted 14 of the Officers Club stores in England to the Blue Inc fascia.
Blue Inc also acquired the Petroleum brand name from the Officers Club administrators and operates three standalone stores under that brand.
Earlier this year, Blue Inc bought 20 former D2 stores after the young fashion business fell into administration.
Blue Inc has weathered tough trading conditions and a highly competitive menswear sector partly because of its appeal to the youth market.
As the recession deepened in 2009 and 2010, Blue Inc's strengthened range of clothing for teenagers as well as a rolled out womenswear offer enhanced its appeal.
It has continued to deliver solid results and profits through the recession and downturn.
Bluc Inc has a loyal urban customer base and has benefited in recent years from range development and celebrity tie-ups. Own-labels include Twisted Soul and have been fronted by celebrities including bands such as N-Dubz and JLS.
There has been talk that an IPO may be on the cards, including last year when former Selfridges, Marks & Spencer and Mothercare executive Mike Rainer was hired as finance director.
Cohen has said that, while a float is a possibility, the retailer does not need to go public. Recent economic and financial market turbulence mean that an IPO does not look imminent.
The Retail Week Knowledge Bank profile indicates that conditions could get tougher for Blue Inc. It says: "Going forward, the expectation is that trading in the youth market will remain challenging, as young people have reduced their spending in anticipation of higher tuition fees, while youth unemployment has also been on the rise."
On Trend
Total sales 2010 £46.9m ex-VAT
Pre-tax profit 2010 £1.2m
Owner Marlow Retail
Managing director Steven Cohen
Finance director Mike Rainer
Number of employees 2010 938
Sales per employee 2010 £50,030