Australian jewellery and accessories retailer Colette is eyeing entering the UK later this year after rapid antipodean expansion.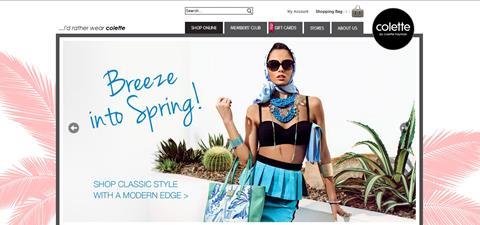 Colette is on the hunt for UK stores amid an "aggressive" international growth strategy as it also targets Singapore and the US with company-owned stores.
The young fashion accessories specialist, which primarily retails handbags, was founded in 2010 by husband and wife duo Mark and Colette Hayman after the pair sold their stake in jewellery brand Diva.
Colette has 78 stores across Australia and New Zealand, predominately in shopping centres. It also plans to open 40 stores in South Africa and 45 in the Middle East through franchise partners.
Chief executive Mark Hayman last month told CEO Magazine: "We've built the infrastructure to support 150 stores in Australia and 1,000 stores overseas from the outset. What we've been finding is that we're not outgrowing our systems.
"We put into place a lot of processes, systems and technologies that would support a larger business, so that's allowed us to grow quite quickly."
Colette is the latest Australian retailer target UK shoppers. Earlier this month, stationery retailer Smiggle revealed plans to head to UK shores and plus-sized lingerie retailer Taking Shape secured its first shop here in May.
Colette's entrance follows the launch of Aldo's Call It Spring fascia last year and the expansion of Swarovski's young fashion brand, Lola & Grace.