Morrisons, once seen as an online slowcoach, is increasingly making up for its slow start.
It is doing so with the greatest power in ecommerce – Amazon.
Although Morrisons initially began selling online through a partnership with Ocado, which remains in place, the grocer seems to be forging increasingly strong links with Amazon.
So what does today's deal mean for Morrisons and Ocado?
The share prices told divergent stories – Morrisons was up and Ocado down.
A developing relationship
Morrisons' relationship with Amazon appears to be developing at pace.
The new arrangement, under which Amazon Prime shoppers will be able to buy products picked from an undisclosed number of Morrisons stores in unspecified areas of London and Hertfordshire, is the third tie-up between the pair in less than a year.
"The relationship is working out well for both parties and it is broadening and deepening"
First, Amazon collection lockers were installed in Morrisons stores.
Then Morrisons struck a wholesale deal with the Amazon, which is building its food offer through the launch of its Fresh business in the UK.
One source familiar with Morrisons observes that the successive initiatives indicate that the relationship is working out well for both parties and it is broadening and deepening.
Bernstein analyst Bruno Monteyne observed that today's development widens Morrisons' online offer and is another way to sell to online shoppers.
The risks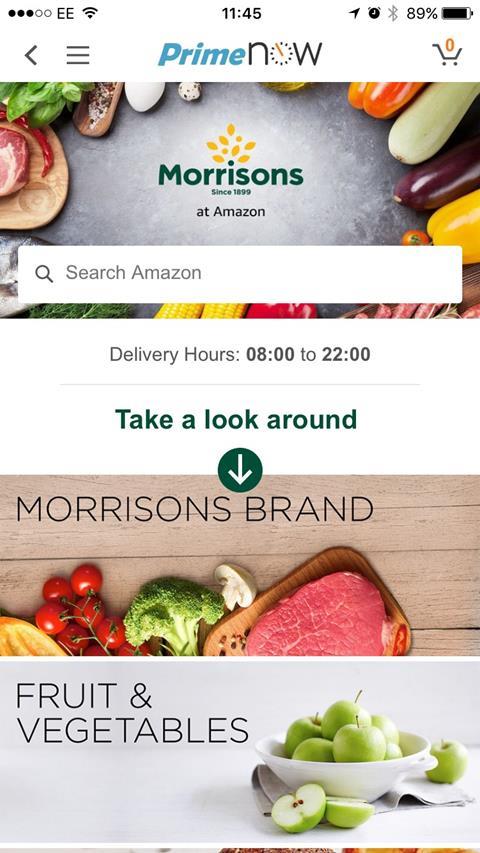 But he points to some risks for Morrisons.
He says: "Amazon has control over pricing. The deal remains part of the wholesale agreement and Amazon are able to charge their own prices.
"Without being able to control pricing, this puts a material risk on the Morrisons brand and the risk of Amazon undercutting Morrisons' offer."
He also notes that "by spreading the Morrisons offer onto another service (in addition to distribution through Ocado CFC [customer fulfilment centre] and in-store and Amazon Fresh), this is likely to lower density of the other Morrisons offers."
And he signals possible challenges in execution. He maintains: "Amazon is at a very early stage of developing online food retail and there is material risk that customers will blame Morrisons for any mistakes in execution."
What about Ocado?
Exane analyst Andrew Gwynn is more concerned about the implications for Ocado.
He notes: "Morrisons recently renegotiated its contract with Ocado to allow Morrisons to do store picking.
"However, we had assumed that Ocado would be building the infrastructure to allow them to do this and the service would be deployed in areas where Ocado's distribution network doesn't reach (the far South West and North East of England). As such, the move by Morrisons is a surprise."
"Ocado is keen to sell access to its technological prowess to other retailers around the world"
Ocado downplayed any downbeat interpretation of what the latest Morrisons and Amazon link might mean, although its comments struck a defensive and legalistic tone.
Ocado said: "Although we are not aware of the details, we have been assured by Morrisons that they acknowledge and respect the exclusivity provisions in our agreement, which oblige Morrisons to operate their online grocery business only through the Ocado arrangements.
"Meanwhile we are making good progress with development of the Erith CFC which we will operate for ourselves and for Morrisons.com, and with the creation of a store-pick solution for Morrisons.com."
But Gwynn took a bearish view of Ocado's position – the etailer is keen to sell access to its technological prowess to other retailers around the world.
He said: "It does, to our minds, undermine Ocado's aspirations to find a new partner."
A market up for grabs
But Credit Suisse's Stewart McGuire was more upbeat.
He argued: "The impact on Ocado is mixed.
"In the near term, we expect clients to see this as an encroachment into their existing agreement with Morrisons, putting the growth of that channel at risk.
"Over the medium term, however, we firmly believe that store-pick fulfilment will be superseded by centralised fulfilment.
"Amazon will either develop or buy that technology, and Ocado has the most advanced, fit-for-purpose grocery fulfilment system available.
"We see Ocado as a structural winner, whether it is acquired, or whether Amazon's growth will force others to contract for its technology."
The battle to win stomach share in online food retail continues, and bets still differ about which retailers – and which model – will emerge as winner.