Despite registering a growth of more than 22% last year, online sales growth slowed for retailers in 2016.

Retail Week Prospect data indicates online sales growth for the UK's leading retailers remains strong, at 22.6% on an annual basis, despite tailing off from a 43.5% peak in 2013/14.
Online sales growth continued to accelerate up until 2013/14 as retailers made significant investment in their multichannel operations, including new ecommerce platforms and improved fulfilment options.
The strong performance of relatively new etailers such as Made.com and Boohoo also contributed to rapid growth during those years.
The focus in recent years has been much more on improving the online customer experience.
While there are clearly still gains to be made, for instance by improving mobile conversion rates, the increased maturity of the online channel means that the growth rate is likely to reduce further over the coming years.
This data took into account the growth rates achieved by individual retailers. While it does cover a large proportion of the overall online market, it should not be taken as a definitive growth figure for online sales in the UK.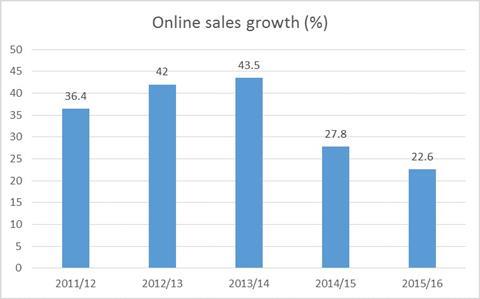 Understanding shopper behaviour is critical to a successful online strategy. Access Mastercard's exclusive service on helping retailers to spot growth opportunities by clicking here.
Sign up to Mastercard's exclusive service
To discover more exclusive insights and bespoke data from the Fresh Thinking for 2017 campaign, click here.