High street vacancy rates tend to grab the headlines, but retailers face another property challenge – finding the right distribution and warehousing property. Ben Cooper takes the measure of the market.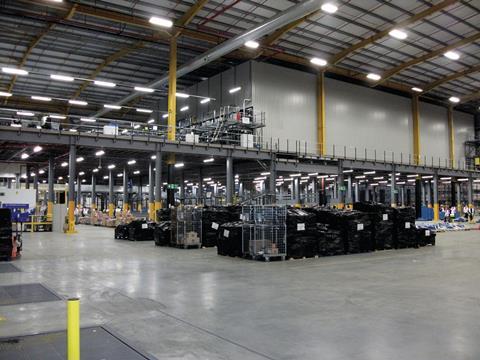 Retailers taking on new warehousing space used to be spoilt for quality options, and retail warehousing tended to be a safe bet for developers creating a constant supply of sheds across the country. However, recent figures from Cushman & Wakefield show that of the 29 Grade A warehouses on the market in England only two are between 500,000 sq ft and 600,000 sq ft, and there are none more than 600,000 sq ft.
Multichannel has created new reasons to ensure smooth logistics operations, which can mean moving into new, modern warehouses. And as supermarkets – big users of logistics and retail warehousing – continue to put thousands of new products on the shelves each year, demand for distribution centres is anything but decreasing.
"Retailers have a quandary," says Cushman & Wakefield head of national logistics and industrial property Mark Webster. "Some people can't look 20 months ahead, let alone 20 years. But if people aren't able to move then it's a big issue. A crisis looms in terms of the supply of new buildings."
So with little new supply in the warehouse pipeline but new space still required, what can retailers do to get the sheds they need? Before the economic downturn the appetite for warehousing space was between 13 million sq ft and 14 million sq ft in an average year, and about 10 million sq ft was being built. But the meltdown in the financial world, the main driver of property development, caused the system to arrest.
Webster explains: "People just stopped building. Nothing has been built and nobody has done anything speculatively since then. Nobody wants to take any risk."
Four years post-crash, there is still hardly any development and many fear a crisis point. Due to banks' continuing aversion to significant lending, without a pre-let developers won't get backing, so the only solution, according to Jones Lang LaSalle research director Jon Sleeman, is for retailers to approach developers with a specific order to get warehousing built for a specific purpose.
"Right now one of the challenges for retailers is to find quality space," he says. "There hasn't been enough development. So retailers have to negotiate with developers over build, to suit designs, and that can take longer."
But this isn't straightforward either. The problem with having a shed made to order is that the developer is usually starting from scratch, and while a warehouse is quicker to build than a store, it can still take far longer than many assume.
"Retailers really need to plan ahead and consider the whole life span of a building," says Webster. "43% of retailers start thinking about their next step one or two years away from a break or lease expiry. This isn't enough. There's a lot to think about, people aren't giving themselves enough time to go and get something built."
Partly as a reaction to the slowdown in supply, retailers are adopting a 'less is more' approach, to make maximum use of existing warehouse space.
The Co-Operative Food head of logistics service Mark Leonard says: "The next 12 months will see the last of the large composite sites ramp up and this will see a reduced rate of growth in logistics and warehouse space. The trend will then be to get more from these facilities by increased centralisation and collaboration. In short, lean supply chains are the priority in the retail sector."
Less is more
Making the most of existing facilities is a growing trend across UK retail, says Rick Ballard, director of supply chain management consultancy The Logistics Business. However, the decision to opt for this approach is still tricky.
"The big companies are looking to condense space and make better use of it," he says. "But it's always a compromise because if you have fewer warehouses you have higher transport costs. It's all a trade-off."
Reducing property outgoings will therefore have a huge impact on transport options, an area of the supply chain that will be the next game-change for the industry, according to Sleeman. "Retailers now understand much more than they did that logistics is at the heart of their competitiveness. It's not just a cost," he says. "Big retailers like Tesco, The Co-operative, Somerfield and Waitrose are all going through a realignment of their supply chains. Especially where retailers are sourcing supplies from overseas, they need to look at the railways and deep sea ports for new warehousing facilities."
Future warehousing decisions will be linked to such infrastructure considerations. A Tesco spokesperson explains: "The focus on developing our national and regional warehouse network has been supported by investment in our transport operations. We now run one of the largest double-deck delivery fleets, moving products into regions as well as direct to our biggest stores. This has reduced our road miles by more than 110 million miles, saving 142,000 tonnes of carbon dioxide. In parallel, we have developed a rail operation that moves up to 1,500 rail containers a week across the UK using five dedicated trains, with plans to increase this number."
This rail resurgence represents one of the most interesting developments in recent years, and it's safe to assume more similar thinking can be expected from other retailers before too long.
Warehousing is a complex issue at the moment. Compared with the straightforward days before the crash, now logistics is a real balancing act. On one hand, growth is being stifled by a massively reduced property supply, and, or possibly as a result, retailers are having to find ways to make less space go further.
But, even if retailers succeed with the 'less is more' approach and improvements to transport and logistics, buildings will become old fashioned and run down, and the supply problem will only get worse if the pipeline problem remains.
Webster believes that there's only one real solution long term. "More space needs to be built," he says. "Somebody needs to start building speculatively. There is so much demand that buildings don't remain empty for long."
Investing in the future
Value retailer Poundland plans to use its new 200,000 sq ft distribution centre to service Europe when it opens stores on the continent. The distribution centre, in Hoddesdon, Hertfordshire, fulfils stock for Poundland's southern stores.
House of Fraser is "investing heavily" in online operations and has switched one of its distribution centres to online-only fulfilment as multichannel grows. House of Fraser opened a second distribution centre in Wellingborough, Northamptonshire last summer, and its original warehouse in Milton Keynes has been given over to ecommerce orders to support the channel's growth.
Earlier this year, Supergroup moved to a new distribution centre in Brockworth, Gloucester to make its operation more efficient. The distribution centre has the capacity to support the retailer's expansion. SuperGroup invested £1.5m in moving its retail operation to the larger, 250,000 sq ft distribution centre, which is managed by supply chain solutions provider Wincanton.
Fortnum & Mason is investing in a new distribution centre in Cambridgeshire.
Ocado is achieving greater efficiency at its Hatfield distribution centre, and will benefit from the economies of scale gained from its second distribution site, due to open in Warwickshire in 2013.
Over the past year, Harrods spent £107.8m refurbishing its store and opening a new distribution centre in Reading.
Alliance Boots' Burton on Trent distribution centre, which opened at the beginning of the year, is expected to bolster growing online sales.