Electricals group Dixons and mobile specialist Carphone Warehouse have officially flicked the switch on their retail merger.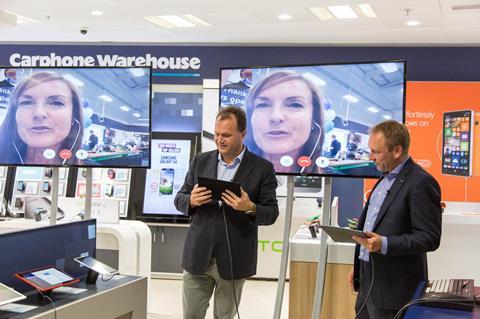 Teams at the newly formed Dixons Carphone burned the midnight oil so they could unveil the first joint stores on the first day of business last week, in a signal that the lights were on at the enlarged business.
The deal, which created a business capitalised at about £3.8bn, is predicated on the expected growth of consumers' adoption of mobile technology and the wealth of possibilities that connectivity brings.
Carphone Warehouse's power in the smartphone market, Dixons' presence in wider technology categories and the services that both offer put Dixons Carphone in a strong position to provide the products, advice and support that consumers want, bosses believe.
The first combined shops – seven opened last Thursday and there will be 23 more by Christmas – were designed to highlight the possibilities.
At the Oxford Street Currys PC World store, where about 1,072 sq ft of the 4,700 sq ft space has now been given over to Carphone, Dixons Carphone chief executive Sebastian James and deputy chief executive Andrew Harrison showed off key product areas such as wearable technology.
And in keeping with the theme of connectivity, they used tablet devices to connect with Dixons UK and Ireland chief executive Katie Bickerstaffe and Carphone UK and Ireland chief executive Graham Stapleton in the Aylesbury and Watford stores. In turn Bickerstaffe and Stapleton provided virtual tours of those shops.
"We must and will build a fantastic services business"

Sebastian James, Dixons Carphone
It was all designed to illustrate the reality of the connected world and make concrete the promise of the merger.
After the link-up was proposed in May, some questioned whether the idea of connectivity was, despite rapid consumer adoption of mobile technology and the promise of £80m in synergies, a vague foundation on which to build a new business.
However, James and Harrison insisted that they would maintain a practical view to grab the future with both hands.
James said: "Three things are utterly critical: we must keep the underlying business serving customers and trading well; we must deliver the synergies we promised; and we must and will build a fantastic services business."
He went on: "We're absolutely determined to make Dixons Carphone one seamless offer for the customer. There will be ups and downs, it will be bumpy, there's lots for us to do. We're absolutely on it."
Harrison said: "Just being here and seeing it all come alive is the moment you look around and know that we've got a lot to look forward to."
Dixons Carphone is being built on four foundations – the merged retailers' broad and complementary product ranges and multichannel capabilities; the chance to drive "significant revenue growth" through technical support services such as Geek Squad and Knowhow; the development of an international business-to-business services provision operation; and synergies such as rent and infrastructure costs.
City analysts believe the retailer has a good chance of success, although it may take some time for all the benefits to be realised.
"We've arrived. We are Dixons Carphone and we're one fantastic team"

Andrew Harrison, Dixons Carphone
Investec analyst Alistair Davies says: "We believe the creation of Dixons Carphone is not about the £80m of synergies but more a conceptual merger based on two management teams having similar views on how technologies are converging.
"The merger has logic given increasing connectivity between devices at home and on the move, as well as the mobile phone becoming a key device at the centre of most people's lives.
"Both companies view connective services as a potentially lucrative revenue stream. After all, margins on the actual product are wafer-thin. While over the longer term these revenue streams may become material, today the connective services propositions are immaterial for both businesses."
Barclays analyst Christodoulos Chaviaras believes the biggest short-term opportunity is Carphone shop-in-shops in Dixons' stores.
He notes: "Our analysis indicates the launch of Carphone stores within Dixons stores in the UK will be significantly profit-accretive. In our view the main risk is the timely execution of management's initiatives in addition to a potential interest rate increase that could dent spending on big-ticket items."
As he showed analysts and press around Oxford Street, James was enthusiastic about what is to come. He said: "This is the first step of what we'll have in all our stores, communicating what we think in the coming years will transform all our lives."
Harrison said: "We've arrived. We are Dixons Carphone and we're one fantastic team."