Private sales home and garden etailer Achica, set up by Asos founder Quentin Griffiths, is gunning to break even in the next three months.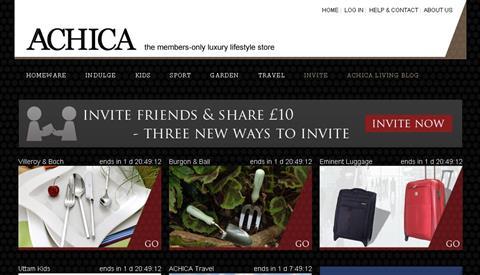 Griffiths said it would have taken just 18 months to break even, as the site launched in February last year.
Griffiths and co-founder Will Cooper plan to grow sales to £330m within the next decade. They declined to reveal current sales.
Cooper said: "The home and garden market is worth £33bn. Online shopping is still growing so I see no reason why we can't account for 1%."
Griffiths added: "We're aiming to do this in 10 years, quicker than Asos grabbed 1% of the fashion market."
Achica said the private sale concept was continuing to soar and the etailer had grown its subscribers to 100,000 since its launch.
The model relies on repeat business from its members. Over 30% of its subscribers have bought more than three items from the site.
Achica is planning to improve its website this year and will add more editorial content.
"Publishers are becoming retailers and retailers are becoming publishers," said Griffiths. "The line between the two is becoming increasingly blurred; content sells product and customers expect it. Already our weekly lifestyle blog is our top-read marketing email."