Amazon has reported a surprise second-quarter profit after its sales jumped 20% boosted by a strong US performance.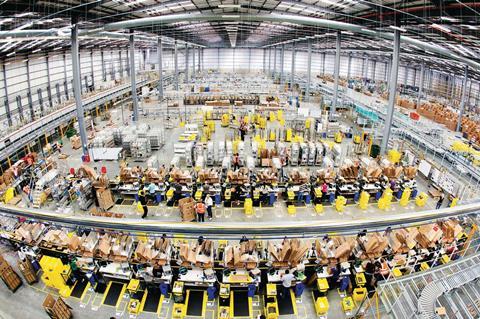 Net profits of $92m (£59m) vs loss of $126m (£81m) in last year's second quarter
North America sales up 25.5%; international sales rise 3%
New London photo studio will push fashion offer
Amazon's market cap overtakes Walmart's
The US-based etail colossus, which this month launched a challenger event to Black Friday called Amazon Prime Day, saw its share price surge up to 19% off the back of the results. Amazon's $267bn (£172bn) market value is now above Walmart's.
Amazon revealed net profits in the three months to the end of June of $92m (£59m), compared with a loss of $126m (£81m) in the same period last year. Sales jumped 20% to $23.2bn (£15bn), higher than Wall Street expectations.
Its sales in North America rose 25.5% to $13.8bn (£9bn), while international sales were more sluggish, increasing 3% to $7.6bn (£5bn).
At its North American retail business operating profits soared 114%.
Photo studio
Brian Olsavsky, chief financial officer, said the increase had been "driven by Amazon Prime adoption and dropping that to the bottom line with efficiency projects".
The etailer has been focusing on its subscription Prime service, which includes unlimited one-day delivery for members.
Amazon founder and chief executive Jeff Bezos said: "The teams at Amazon have been working hard for customers."
Looking ahead, the etailer said third-quarter net sales are expected to be between $23.3bn (£15bn) and $25.5bn (£16bn).
Meanwhile, in the UK Amazon yesterday opened a new "multi-million pound" photography studio, covering nearly an acre, in Shoredtich east London. Video and photographs taken at the studio will be used to promote the fashion brands sold on its European websites.