Amazon is adjudged to have infringed Lush's trademark by diverting customers to similar products through online searches, Retail Week looks at the implications.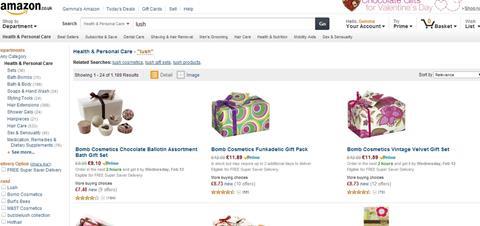 Why are we talking about this now?
Amazon has lost a High Court case which ruled that it infringed the trademark of beauty firm Lush, which does not stock products on Amazon, by diverting customers to similar products through online searches.
What are the details of the case?
The beauty retailer complained that Amazon was using search adverts to target people searching for its products and diverting them towards similar items stocked on its site. The High Court found that Amazon had infringed the 'investment function' of the Lush trademark. Amazon had placed sponsored ads, known as Google Adwords, to promote its own product ranges, which were for sale at their website.
Judge John Baldwin QC referred to the fact that Lush had invested in developing a brand that is perceived to be ethical and environmentally-friendly and that it had the right to defend this reputation. Baldwin also said consumers may believe the products which appeared in the search were made by Lush.
It emerged this week that Lush registered the name of Amazon UK boss Christopher North as a trademark for toilet products with the Intellectual Property Office in 2012. The phrase is registered against cosmetic categories including perfumes, non-medicated toilet preparations and toilet articles.
Have there been any similar cases?
Yes. A similar case last year saw Interflora take Marks & Spencer to court and win. In that case, the High Court found that M&S had used keyword advertising to attract customers searching for Interflora. It specified that a trademark needed to be protected carefully if the internet user is unable to identify the source of the goods or services being advertised.
Do these cases set a precedent?
It would appear likely that retailers will study their practices when using keywords carefully following these cases. That online giant Amazon has been found guilty will also send a message that no business is too large to escape punishment.
Simon Chapman, a partner Lewis Silkin, which represented Lush in the case, said: "There is no doubt that many online retailers will need to reconsider their approach with regards the promotion of and marketing activity in support of alternative products to ensure they do not fall foul of today's important precedent."
Withers & Rogers partner and trademark lawyer Fiona McBride said: "The internet is a fast-moving consumer marketplace and trademark law is playing catch up. This decision will help to establish clearer ground rules for the use of keyword advertising in the future."