Alibaba has smashed last year's Yn36.2bn (£3.7bn) sales record during its Singles' Day shopping bonanza, with 10 hours still left to go.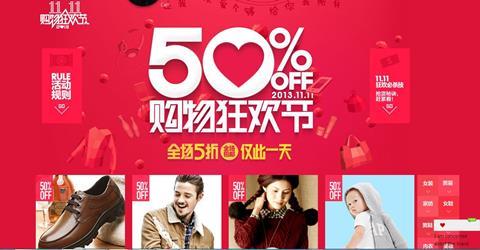 The Chinese ecommerce firm sold £1.2bn goods in the first hour of Singles' Day, a 24-hour Sales event it is attempting to take global.
Singles' Day was adopted by Alibaba in 2009 as a means of boosting sales. The day was created in the early 1990s by students at Nanjing University who chose the date as an anti-Valentine's Day when single people buy things for themselves.
Alibaba chief operating officer Daniel Zhang told the Financial Times this is the first year Alibaba has attempted to change the event into a global shopping day, but admitted numbers could be quite small this year.
The ecommerce giant did not break down the amount of sales generated internationally but revealed the largest orders outside of mainland China came from Hong Kong, the US and Taiwan.
About 35,000 merchants slashed prices for this year's Singles' Day in China and abroad, which involved 38,000 transactions being processed by Alibaba's Alipay service at peak.
At 2pm, some 44% of gross merchandise value had come via sales on smartphone.
The £3.7bn of sales generated during last year's Singles's Day was 2.5 times the size of Cyber Monday, the first Monday after Thanksgiving online shopping day that takes place in the US.