Fashion brand Levi's is the latest partner to support Retail Week's Be Inspired programme, joining more than 20 retailers, including Marks & Spencer, Primark and Walgreens Boots Alliance.
Now in its fourth year, Be Inspired is a global movement focused on inspiring retail talent and building a future pipeline of female CEOs.
It connects women in retail with male and female business leaders who can help propel their careers, inspires them through the stories of others, opens their eyes to work opportunities and fosters a culture of career confidence.
As a Be Inspired partner, Levi's has appointed its vice-president for north Europe, Richard Hurren, as an ambassador for the programme.
Thanks to their time, skills, support and direction, Be Inspired's ambassador network – which features more than 150 business leaders – help to inspire and connect women at all stages of their career throughout the sector.
Commenting on Levi's decision to work with Retail Week to help build a more balanced and fair industry, Hurren said: "Levi's has been a long-standing figure in equality. I attended the 2019 Be Inspired conference with 15 talented women from across Europe, and the content was perfectly aligned with our own internal women's leadership journey.
"Recognising the challenges is the first step, and ensuring we attract the best talent is imperative. There is no perfect mix, but ensuring diverse thinking, approach and engagement drives better results for the individual, team and business."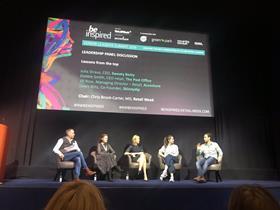 Be Inspired conference 2020: save the date
The Be Inspired conference, one of Retail Week's flagship events, will return on Wednesday June 17 in London.
It's set to be bigger and better than 2019 – which saw approximately 1,000 delegates in attendance and featured keynotes from Maggie Alphonsi MBE, Louise Greenlees and Theo Paphitis. Be sure to save the conference date in your diary.
Tickets will be going on sale shortly, so watch this space.