eBay is one of the largest and best-known online marketplaces, having been founded in 1995 and growing to become a multinational group with a myriad of brands in its roster. However, the retailer is now focusing on its core eBay operations having recently sold both its ticket trading platform Stubhub, along with its classified-ads operations which included Motors.co.uk and Gumtree.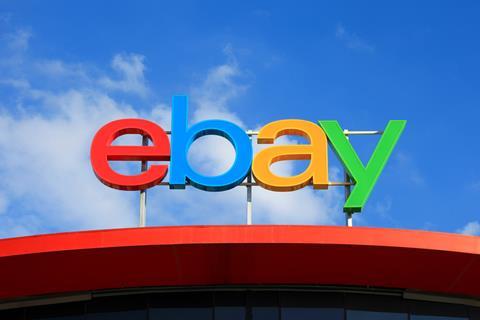 eBay sales declined 4% in constant currency to $9.8bn (£7.9bn) for the year ending 31 December 2022 (FY2022) while pre-tax profits plummeted to a $1.6bn (£1.3bn) loss.
Overall, the gross value of sales generated through its websites amounted to $73.9bn (£69.06bn) in FY2022, falling 11% in constant currency.
eBay generated 52% of its revenues outside of the US in FY2021, with the UK and Germany its two key international markets.
Its UK business is yet to update for FY2022, but generated sales of £1.4bn in FY2021, up 5.9% year-on-year and rising to nearly 19% share of total group sales.
eBay was set to launch its seller-fulfilment offering, known as 'Managed Delivery', to compete with services such as 'Fulfilment by Amazon' during 2020, however the impact of the coronavirus pandemic has led this to be paused. Instead, the retailer has pushed ahead with the launch of managed payments which saw it move away from PayPal in order to streamline pay-outs and refunds.
It has also been focused on personalisation, mobile, data, security and working on its core platform. It is also looking at ways to integrate artificial intelligence, virtual reality and connected devices.
Innovation rating: 3.5
See related content from Retail-Week.com