Currys was formed in 2014 – originally as Dixons Carphone – following the merger of Dixons Retail and Carphone Warehouse Group, which developed an outlook to capitalise on the increasingly connected world. The retail group began to rebrand solely as Currys in May 2021, which will also see it launch a new "cloud-based" website featuring deep personalisation and a focus on product content.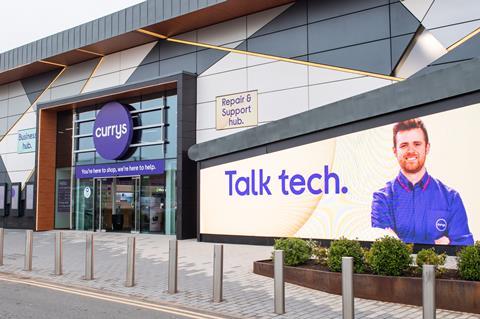 Currys group sales dropped 6.2% year on year to £9.5bn in the 2022 financial year to 29 April 2023 (FY2022).
UK and Ireland sales saw a 7.6% year-on-year decline in FY2022, while international sales fell by 4.6%. Group like-for-like sales decreased by 7% year on year.
The retailer said the decline in sales was also a result of a "normalisation of spend on technology" following the boom in growth during the pandemic.
Currys previously operated the Currys, PC World, and Carphone Warehouse fascias but closed all standalone stores of the latter brand to assist in its turnaround of the struggling mobile business arm in March 2020. PC World had acted as the B2B brand for some time but it was culled in the aforementioned rebrand.
Faced in recent years with shrinking profits, primarily relating to the challenging domestic mobile phone market boss Alex Baldock is pushing on with a transformation plan, which focuses on online, credit and iD Mobile, and more recently addresses inflation and rising costs of living.
According to the retailer, the transformation in the UK&I has delivered improved colleague and customer experience, as well as led to better profits in FY2022.
Meanwhile, in the past few years there has been a downsizing of the business's overseas operations, which has seen it sell off operations and exit some markets. Dixons Travel, which operated 35 airport and cruise ship stores, fell to this strategy in April 2021 despite providing around £20m to the group's bottom line.
Reacting to customers facing rising costs since 2022 , Currys is actively seeking alternatives to maintain product affordability. As well as extending ranges to maintain low price points it is looking to responsible credit, to spread costs on a regular basis.
Innovation rating: 3.5
See related content from Retail-Week.com