AO is a Bolton-based online electronics retailer which was founded as Appliances Online in 2000. The business launched an IPO in 2014 as it sought to expand into Europe, launching operations in Germany the same year before moving into the Netherlands in 2015. Its international operations proved problematic, however, with the retailer exiting the Netherlands in 2019 and Germany in 2022.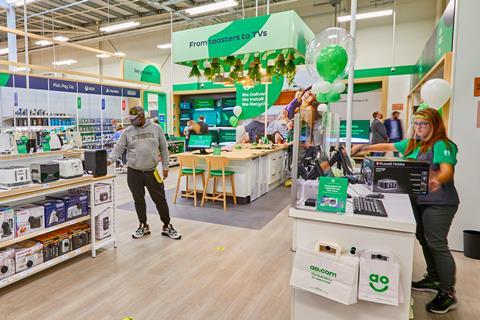 AO generates the vast majority of its sales in the UK through its ao.com website, but is also active on marketplaces like Amazon and eBay as well as managing white-label sites on behalf of retailers such as Boots.
Over the years, AO has expanded its offer to include small appliances, TVs, computing, smartphones, and gardening products. It acquired Mobile Phones Direct in 2018 to access the mobile telecoms market and rebranded this as AO Mobile the following year.
Founder John Roberts returned as chief executive in February 2019, heralding a shift in strategy and accelerated pace of development, with the business looking to develop a product and services ecosystem, taking inspiration from Currys and Amazon. AO offers mobile phone contracts, account-based finance, recycling, and third-party logistics alongside its core retail operation.
But after swinging to a serious loss in FY2021, AO has embarked on a streamlining programme, reducing costs to focus on profits rather than overall growth.
The streamlining programme started to show through in the year to end-March 2023 (FY2022), with the electricals specialist moving back into the black at both the operating and pre-tax levels. Refocused entirely on the core UK business, sales fell 16.3% year-on-year to £1,1398.5m as it moved out of non-core channels and loss-making sales.
AO exited a small shop-in-shop partnership with Tesco in July 2022, but entered into a potentially lucrative supply deal with Wickes the following month, with further partnerships reported to be on the cards.
See related content from Retail-Week.com