Adidas is one of the world's largest footwear and apparel manufacturers, founded in 1924 by Adolf and Rudolf Daffsler as Gebrüder Dassler Schuhfabrik. The brand became known as Adidas in 1949 when Rudolf Daffsler split off to form Puma.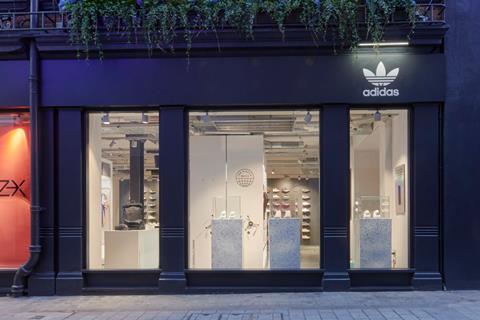 Adidas retails products under its own name, as well as Y-3, but is divesting the underperforming Reebok brand after 15 years of ownership in 2021. Reebok was acquired by Authentic Brands Group in a $2.5bn deal in 2022.
Adidas unveiled its new 'Own the Game' growth strategy in March 2021. This succeeds its 'Creating the New' strategy, which completed in 2020, and is focused on increasing the credibility of the Adidas brand, elevating the experience for its customers and pushing the boundaries in sustainability.
As part of the five-year strategy to 2025, Adidas is planning to grow its direct-to-consumer (DTC) operations to account for 50% of retail sales, double its portfolio of key cities to 12 and leverage partnerships to further enhance its credibility with consumers.
Adidas delivered muted growth in FY2022, as the retailer battled a difficult fourth quarter having terminated its Yeezy partnership.
Revenues rose 6% to €22.5bn (£19.2bn) or 1% in constant currency for the year, despite challenging trading conditions in its Greater China region, where sales fell 30.8% to €3.2bn (£2.7bn).
Adidas is run by chief executive Bjørn Gulden, who moved into the role from January 2023.
Innovation rating: 4.0
See related content from Retail-Week.com