Shoppers swoon over Primark's Love Island T-shirts and Retail Week's Be Inspired campaign hits the accelerator button.
Things get 'muggy' for Primark
There's no doubt that Love Island is a surprise television sensation, with 1.25 million people tuning into ITV2 six nights a week to watch the reality TV show.
Now even Primark has caught the love bug, and some serious 'grafting' – to borrow the Love Island lingo – appears to be paying off.
T-shirts emblazoned with typical Love Island taglines, such as 'muggy' and '#AbsoluteMelt' and 'I got a text', have been flying off Primark's shelves.
As the craze continues to sweep the country, young teens are drawn to the range, as if bringing them closer to the 'bantering' islanders.
Even eBay is getting in on the act.
Having noticed the unexpected popularity of these T-shirts, users of the online marketplace have started making a pretty penny by selling them for almost five times the original price.
But Primark isn't getting hot under the collar about a bit of competition. The retailer tweeted: "Wow these #LoveIsland T-shirts have sold out in some stores already. Good news… more coming later next week #blazinsquad #melt #muggy."
WOW! These #LoveIsland tshirts have sold out in some stores already. Good news… more coming later next week #blazinsquad #melt #muggy 💃🏼 pic.twitter.com/8Nyuqt3FzF

— Primark (@Primark) July 8, 2017
Be Inspired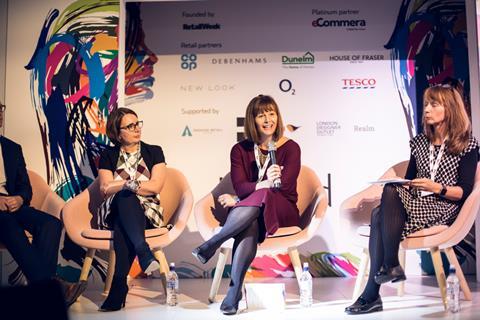 Retail Week's Be Inspired campaign, in partnership with eCommera, continued apace this week with a mentoring session featuring masterclasses from ambassadors.
Retail executives Wendy Hallett and former East boss Suzi Spink led sessions on having effective conversations with line managers and adapting to different personality types in order to achieve results at work.
Debenhams HR director Nicky Zamblera spoke about overcoming fear and Argos customer experience and strategy director Katy Gotch focused on why honing in on signature strengths engenders confidence and decision making.
Retail Week also launched its Be Inspired conference, revealing the programme for the November event.
The conference will be the largest Be Inspired event so far and will feature sessions with retail leaders including Ikea UK boss Gillian Drakeford and Boots UK boss Elizabeth Fagan.
On offer will be masterclasses on issues such as leadership skills and 'the art of blagging it'.
Launched in March 2016, Be Inspired in partnership with eCommera has graduated from inspiring future leaders to proactively developing them with monthly ambassador-led events.
Be Inspired's 50 ambassadors are comprised of retail luminaries including M&S boss Steve Rowe and John Lewis managing director Paula Nickolds.