Retail Week carried out a Gender Diversity Monitor to find out what the UK's largest retailers are doing to plug the gender gap at the top.
It is common knowledge that women are in the minority in the retail boardroom, however, Retail Week and management consultancy Elixirr decided to take a closer look at some of the UK's biggest retailers to determine the scale of the problem.
Across the top 50 UK retailers, 28% of board directors are women. Although this exceeds the voluntary 25% by 2015 target set by Lord Mervyn Davies in his 2011 report Women on Boards, if non-executive directors are stripped out, this number drops to 18%. Women also account for less than a quarter – 23% – of top retailers' operating boards.
Elixirr (elixirr.com) carried out a Gender Diversity Monitor as part of the Be Inspired campaign, surveying a selection of the top 20 retailers, which employ more than 750,000 people, to understand the balance of women and men throughout their businesses at all levels.
The results show that the glass ceiling is much lower at head office manager level than the boardroom. Despite women accounting for 53% of head office staff, just 38% of senior managers are female. The situation is graver in stores, where women account for 59% of staff but 21% of regional store director roles.
Chris Shaw, consultant at Elixirr, points out that the numbers are more positive at head offices as HR initiatives seem to be implemented more effectively in that environment.
"Head offices are good at putting in place mentoring schemes. That doesn't seem to drive down into stores," he says.
Culture of inclusion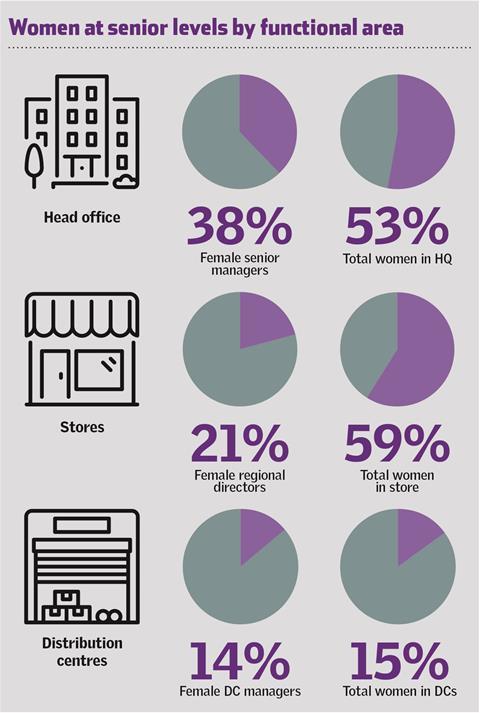 Natasha Adams, UK people director at Tesco – the UK's largest retail employer – says the grocer has worked hard to build a culture where inclusion is in everything it does.
"It's really important we look at ways to disrupt traditional decision-making and ensure we look at all the options so we get more women into the leadership pipeline, especially in roles where men have traditionally dominated, like trading and commercial roles for instance," she says.
"A good example of this is our recent Store Director Academy, where we fast-tracked high-potential women."
Adams also points to the Developing Female Leaders training and development programme it carried out for store staff, which helped increase the amount of women in store director roles by 8%.
Shaw points out that the on-the-road lifestyle of a stores director can be off-putting to some women, particularly those who have children.
He says: "It's often a struggle to get women to apply for these roles. It's a lot of time on the road and many women don't want to have that kind of lifestyle."
The inflexibility of some workplaces and practices impacts workers across all parts of retail, particularly women with families. Many firms have made moves to make working life easier and all of the top 20 retailers surveyed offer flexible working.
Adams says Tesco has a number of stores run by job sharers that are very successful.
Dixons Carphone director of talent and development Caroline Angell says: "Retail by nature must be flexible, adapting to changing customer needs.
"Flexible working is therefore a hugely important and a valuable way to ensure we are best placed to serve our customers all of the time. It also ensures our employees are engaged and feel valued, which we believe ultimately improves the customer journey across all channels," she says.
Flexible working is therefore a hugely important and a valuable way to ensure we are best placed to serve our customers all of the time

Caroline Angell, Dixons Carphone
Debenhams introduced flexible working at its head office 15 years ago and group trading director Suzanne Harlow says it has helped women progress at the department store.
"We think it's one of the fundamental reasons for our balanced gender mix at senior management levels and why more than 50% of our top 120 [executives] are women," she says.
"We have found that if women are given support and flexibility to manage a family as they are developing their careers, they are less likely to feel that they need to choose one over another."
Dixons Carphone has a number of senior staff who work flexibly or part time, including its UK and Ireland chief executive Katie Bickerstaffe, and head of corporate social media Mark Webb, who was diagnosed with multiple sclerosis in 2008.
Webb, who was formerly Dixons Carphone's head of media relations, moved to a four-day-a-week role, which enables him to manage his chronic illness while still working.
The Gender Diversity Monitor shows that 80% of employees who opt to take up flexible working are women but, worryingly, the more senior the level the fewer people take it up.
Who is accountable?
Gender diversity is recognised as critical in modern business, which is why leaders from the UK's largest retailers including Tesco, Asda, Kingfisher and John Lewis, are backing Retail Week's Be Inspired campaign.
Most agree that gender diversity needs to be driven from the very top of each and every organisation. However, only one retailer surveyed had someone on its operating board accountable for this.
We believe that developing a diverse talent pipeline is 
the most effective way of tackling gender diversity

Natasha Adams, Tesco
Should more senior executives take accountability for gender diversity? "It has to be led from the very top, but it is everyone's job to build a culture of inclusion, one where individuals can be themselves, live their lives and reach their full potential," says Adams.
"Diversity and inclusion is everyone's accountability at Tesco, driven by the Tesco executive [team] as a whole."
Dixons Carphone takes a similar approach. "We believe that the full executive board should take accountability for the promotion and maintenance of gender diversity within our business, as they do with all other talent initiatives that we operate," says Angell.
Monitoring diversity performance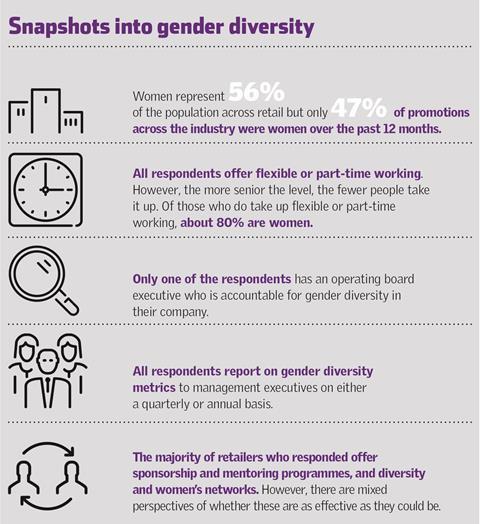 What gets measured, gets done, so the old adage goes. If true, that puts retail in good stead to tackle the female talent gap at the top of the industry.
All retailers surveyed for the Gender Diversity Monitor said they reported back on gender diversity metrics to their senior management teams.
"As an industry, retailers measure lots of things – sales, footfall, conversion," says Karina van den Oever, principal at Elixirr.
"Surely this is one people metric that ought to be included as a priority. The companies that do measure diversity, are the same companies that are building momentum in addressing diversity and inclusivity, which are the same companies that want to get closer in touch with their customers who are predominantly female."
Given that such information is collated and analysed inside boardrooms, would the sector benefit from an industry-wide benchmark to share best practice in this area?
Tesco's Adams believes so. "We believe that the focus must remain firmly on understanding what it takes to attract, develop and retain women in senior positions and sharing best practice across the industry will be important for success.
"We believe that developing a diverse talent pipeline is the most effective way of tackling gender diversity and we are keen to work as an industry to achieve this."
All in retail want to close the gender gap at the top of their organisations. To do so we have to come together, track our progress and share our success stories. Be Inspired is the vehicle to do this. To get involved email victoria.mcdermott@emap.com.