Maria Hatzistefanis recently battled against impending bankruptcy and business administration. In light of the current retail landscape, she shares how she managed the situation while attempting to maintain business-as-usual.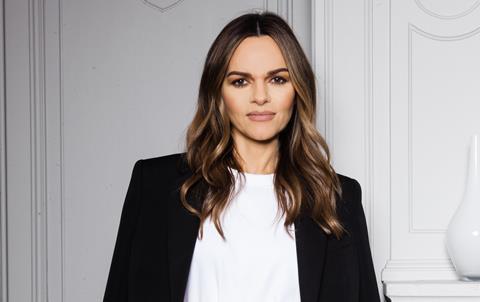 Maria Hatzistefanis is the CEO and founder of Rodial and Nip + Fab, global beauty brands launched in 1999 that are now stocked in 20,000 stores across 35 countries.
Known as 'Mrs Rodial' on social media thanks to her 1 million-plus following, Hatzistefanis is also a bestselling author. She has recently published her second book where she describes how, despite being dubbed "an overnight success", the true story behind her career is very different.
Explaining how she's kept going and found motivation as a business leader, in the face of major challenges, rejection and unexpected setbacks, below Hatzistefanis shares an extract from her new book How to Make it Happen.
Retail Week Be Inspired
Retail Week's Be Inspired programme exists to promote diversity and inclusion at all levels across retail and to encourage people to fulfil their career aspirations.
Join the community via #RWBeInspired and access more Be Inspired content like this – spanning insights to inspiration –here.
Dancing on the edge in 2019
It was my fault; I just couldn't stop saying 'yes'. Yes to this, yes to that.
I was going with my gut… these were great opportunities. The stores will give us more space for more product, orders will be huge, we'll double the business. Suddenly we had 60 product launches all happening over the course of 120 days. That's one product launch every two days!
No one was properly checking how this would all work in terms of cash flow, but we have always pushed the boundaries and danced on the edge a little. This is another bold move, sure, but it will all be a grand success. Won't it?
It all comes suddenly into sharp focus when my financial controller calls for an urgent meeting. She doesn't mess about, she just tells me straight. We were about to go £2m under and only have an overdraft of £600,000. For a company that is turning over tens of millions and has always been profitable, this is shocking. I am numbed.
A cold wave washes over me as I shiver and blink out of a stunned daze and back into the room. OMG. How are we going to pay salaries, suppliers… anybody?
Am I going to be bankrupt, am I going to get sued, am I going down? Btw what colour are the jumpsuit in debtors' prison? Something hideous no doubt. OK, snap out of it, this is serious.
Action stations
I immediately call the bank to try to get a bigger overdraft. They suggest they might be able to squeeze me in for lunch in about two weeks. Two weeks?! This is a life or death situation over here! I don't have two weeks!
Can I send them a detailed plan of how we will get out of the red? Action stations! For 48 hours, myself and a small, trusted team work on the plan – no sleep, lots of coffee, lots of numbers…it looks good. This will work. Send to the bank.
After an agonising wait, they come back to me… no solutions, just more questions! Argh! My bank is really letting me down. Meanwhile, days have passed and the situation has got worse. My phone is red hot. I have suppliers, landlords, salaries all overdue. We are behind on Every. Single. Payment.
Time for drastic action. First, I call my suppliers and work out a payment plan. These are the most difficult, humbling calls I have ever had to make but I have great suppliers and they (mostly) agree to the terms to give me some time. I need a therapist, a coach and multiple meditations to get through the day.
Loose lips sink ships
Next, I cut down on all the office budgets. Staffing, PR, events, digital, office biscuits – all slashed. My staff are confused, obviously, and it occurs to me that I still haven't told them. I can't, it's just too hard.
We'll be fine… they'll never know. Just a few more days, but those days are long, and I want to keep this contained. Loose lips sink ships.
Now I'm taking control of stock orders and stopping or delaying as many things as I can to reduce future payments. We have to go 'out of stock' on several lines. There is no other way.
My sales team are screaming at me to restock but I'm telling them to drive sales, we need new business to keep going. I'm attacking this from every angle I can and my teams are getting really pissed off and confused, but they are not the ones having sleepless nights. I don't – I can't – care what they think or say. I have to do what I can to save my business.
Finally, the bank calls. They will increase my overdraft to £1m for one month. Great news but with a catch. They want personal guarantees. Meaning if I don't repay the million at the end of the month they will take my personal possessions. I'll be homeless, my kids won't have a school to go to, I'll have nothing.
Being an entrepreneur is not for the faint at heart. I feel like I have been hit by a car.
What happened next
Did it work? Am I homeless? Do the debtor's prison jumpsuits suit my skin tone? Well, I'm not homeless yet. It did work, I did pay back the overdraft and am still in business.
But it was a hard lesson and it's not over yet. We are still paying back suppliers, catching up on debts, keeping a close eye on the office biscuit budget. I am still learning, just the same as when I started out.
Now as then, I realised that I just had to have faith. I had to have faith I could get through this, that I would find the answers, that it would be alright. Just as 20 years ago I had to have faith that this crazy business idea would work. Even at the darkest times, I had the faith that I could make this happen.
In the middle of all this stress and panic, when I was still putting on my 'business as usual' face, one of the things I had to do was speak at a conference. Here I was, being touted as an inspirational businesswoman when I knew the ship was going down in flames underneath me.
At the event, everyone thinks I am in control but everything is moving around me so quickly. It is not a winning season…Is this it? Is this a failure too far? Need to keep calm to give my keynote. Make it on stage. Microphone is live. Spotlight on me. Breathe. Focus.
The first question from the floor is: 'You are an entrepreneur, a mum, a public figure. How do you motivate yourself to make it happen?'