With over 150 Be Inspired ambassadors to date, this month Retail Week gets to know new recruit and London Sock Company chief executive Will Wijnberg.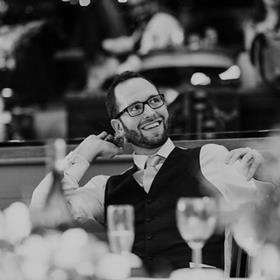 Will Wijnberg, chief executive of luxury etailer London Sock Company, joined Be Inspired as an ambassador earlier this year, attending our inaugural male ambassador steering group in September.
As Be Inspired grows in scale, reach and impact, it's important for our ambassadors to share their thoughts and experiences to inspire the next generation of retail leaders.
Tell me a bit about yourself and how you got to where you are now.
While studying natural sciences at university, I set up a small business called 'In a pickle', making chutney at home in the holidays, and from there my interest in business grew.
While at university I did jury service and became interested in law, but after completing my law conversion, I decided that law was too much of an individual industry. I'm more of a problem solver and a team player, so I went to work at Accenture. My first boss was (London Sock Company co-founder) Ryan Palmer, so when he asked me to join the business I jumped at the opportunity.
Were you involved in securing British supermodel David Gandy as an investor in the company?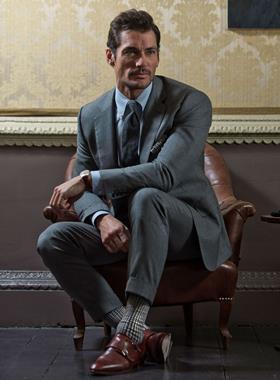 No, he was already an investor when I started, but one of my first meetings was at his house in Fulham, which was quite nerve-wracking. He could not have been nicer – we cracked open a bottle of whisky and just chatted for hours. Not only is he handsome, but he's very charming too. We've got him involved in the business a lot. One of the best things was a couple of years ago, we set up a webcam on him and he manned the phones for our customer service, taking people's Christmas orders. We had plenty of women phoning up just so they could see David Gandy put their order through!
What did you want to be when you grew up, and how has that changed?
A scientist, and then a teacher, but it seems I've got a bit distracted – maybe I'll go back to that one day.
As CEO of a fast-growing start-up, what does your typical day look like?
A lot of meetings: one to ones with my leadership team to ensure they understand the priorities of the day, meetings with the wider team, and meetings with suppliers, investors and the board. I'll also take time to solve problems and strategise for the future. At the London Sock Company, we take customer feedback very seriously and try to talk to customers at least twice a week, so I also get involved in that.
How big is the London Sock Company?
We currently have around 20 employees – a third of which is marketing. We recently hired former Asos global engagement marketing director to help us define our brand strategy. We do a lot of our work in-house – technology and customer service. Both would often be contracted out, but it's important to us to have that connection with our customers. We also have our product design team – the socks are manufactured in Portugal but designed in London.
You recently became a Be Inspired ambassador. Why is diversity and inclusion so important to a business such as yours?
It's important to create a diversity of views within a team so each person can offer a different perspective on how to solve problems. I think we're all guilty of not seeing beyond our own experiences. What companies do need to be conscious of is creating the right environment. You can hire all the right people, but they need to feel like they can speak up and give their opinions – so, the right people, the right culture and good relationships. I think there's also a question of fairness in it. When I think back, all my mentors have been men, but I don't just want to mentor men – we need to break out of the cycle. It's not enough to just be an ally; we need to actively give fair opportunities to everyone.
How are you implementing D&I policies at the London Sock Company as a male-targeted business?
When I first joined the company, we were very aware that being a company of three guys, we weren't exactly diverse. Since then we've come a long way – more than 50% of the staff are women, and so is half our leadership team. As a male-targeted company, we've worked hard to ensure we are not viewed as a boy's club.
Are you looking to expand into women's socks?
We'd love to, but as a small business it's not on the cards for now. There are too many options for women's socks, because women wear so many different kinds of outfits that require different socks. Men, on the other hand, pretty much wear the same thing, and the same socks, all week long. However, I know plenty of women who steal their partner's socks, and our smallest size fits them quite comfortably!
You attended our inaugural male ambassador steering group in September. From the discussions, what do men find most difficult about driving gender diversity?
I feel there's a difficulty with men and how they view relationships with women. For some reason, they feel uncomfortable inviting a female colleague out for a coffee or a drink, whereas they wouldn't hesitate with a male one. Similarly, in private life, men struggle to form platonic relationships with women. I believe this toxic tendency to create boy's clubs needs to change. We need to overcome this cultural barrier, so men and women can form business relationships and become mentors for each other.
What key skills do modern leaders need?
Fundamentally, leadership is about providing a vision, and then being empathetic about communicating that vision to the team in a way that's relevant to them. I also think it's essential to be a good listener, especially in one to ones. British people tend to communicate in subtext, so a leader really needs to listen to and understand feedback from their team to gauge their real emotions.
What has been your biggest career highlight?
Right now! There's so much energy in my team – I feel like we can do anything.
And your biggest challenge?
Personal growth: overcoming the challenges of my role as it changes, as well as balancing time with my family – especially my six-month-old baby. As people, we have a finite amount of energy, and trying to grow in different directions all at once can be tough.
If you had to name a retailer that inspires you, which would it be and why?
There are very few direct-to-consumer online fashion retailers, but some that come to mind are Spoke – a bespoke chino etailer that has a similar concept to the London Sock Company, but chinos instead of socks. And Kiwi trainer company Allbirds – it has created a clear brand proposition using recycled and sustainable materials.
What's next for the London Sock Company?
I feel very happy with the team we have, so 2020 will focus on unlocking the potential of everyone who works here already. We're looking into creating new categories, such as sports socks, and into expanding more internationally.
Quickfire questions
Dream holiday destination?
South Africa.
Three dream dinner guests and why (dead or alive)?
Richard Feynman, Jared Diamond and Nelson Mandela.
What would you cook for them?
I'd get them to make their own pizzas so I can judge them on their topping choices!
If you were running the country for the day, what one thing would you change?
Reduce the number of exams kids sit in school.
How do you like to relax?
Playing computer games.
Favourite Netflix show to binge?
Stranger Things.
What would be your plan B career?
Lawyer.
Biggest luxury?
Avocado on toast every Friday morning.
Is it better to be respected or liked?
Liked.
Favourite colour of socks?
Pink.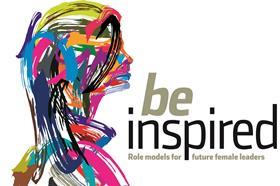 Be Inspired's ambassadors are an integral part of what we do, helping to inspire and connect women in retail at all stages of their career. To find out more about Be Inspired, our ambassadors and our events, visit: https://www.retail-week.com/be-inspired