In this month's Be Inspired ambassador interview, Retail Week gets to know Pets at Home's Louise Stonier.
Currently chief people and culture officer at Pets at Home, Louise Stonier has taken on many roles in her 15 years with the pet care retailer – including head of legal and company secretary – and is now an ambassador for Be Inspired.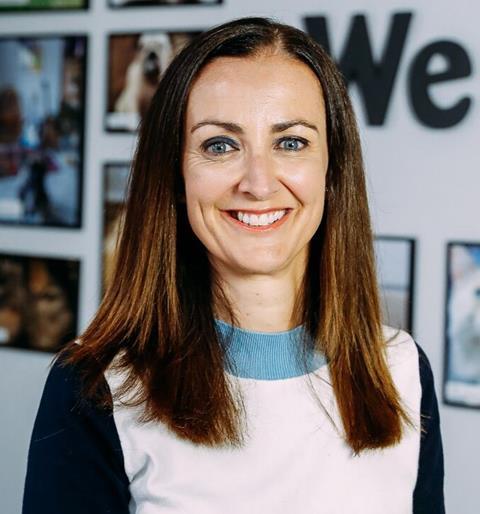 As the number of Be Inspired ambassadors grows, so too does the amount of invaluable advice and inspiring stories to be shared with our audience.
This month, Stonier opens up about her career highs and lows, as well as her plans for Christmas.
How did you get to where you are now in your career?
I started my career as a corporate lawyer, first for CMS and then for DLA Piper. When I became pregnant with my first child, I knew I wanted to leave private practice and, while on maternity leave, a job popped up at Pets at Home: head of legal.
The culture at Pets at Home was very inclusive – I was given the chance to grow both my career and my family. My role in the group has continued to evolve. I taught myself property law on the job, took over the role of people director, in charge of the HR team, and have recently taken responsibility for driving the company's cultural strategy.
When you were young, what did you want to be when you grew up? How has that changed?
I originally had all the standard childhood dreams of becoming a ballerina, but when I moved to the US, aged 13, I began to think about a career in law. Living in the Ivy-League university town of Princeton, I was surrounded by positive, driven people, and I was inspired. It wasn't until the third year of university that I strayed from that path and thought about a career in accountancy, but it was all part of my interest in business. My father worked for [ceramics manufacturer] Royal Doulton on the retail side and we spent a lot of time visiting their shops, especially in the US, and that sparked my interest in retail too.
What does your typical day look like? How big is your team?
My team is around 100 people, the majority of whom are in the HR division. I do monthly one-to-ones with many of my team members and monthly executive meetings. I also help guide strategy, often visiting stores to get feedback from the ground. I find colleagues give the best, most genuine feedback in person, so I can understand what matters to them and feed that into our strategy.
How do you juggle your work-life balance?
My husband takes on a big role in our house, taking the children to school, but I am lucky that I don't live too far from the office, meaning I can get back home fast enough to help them with their homework. Exercise is important to me too – it's my one go-to activity to de-stress and keep myself balanced.
What has been your biggest career highlight?
When we floated Pets at Home on the London Stock Exchange in 2014, we did it all from a standing start in 21 weeks, which was a great achievement. Taking over the people agenda was also a big highlight for me. Standing on the stage at the retail conference for the first time as chief legal and people officer, I was so proud to be leading all the people in our organisation that make it what it is.
And your biggest challenge?
The biggest challenge is the pace of change that we face today in retail – we just do not stand still – and we need to make sure we take all our people through all our changes, particularly in the digital landscape. We also need to protect our culture as we go through the changes, making sure we stay true to our core values.
You recently became a Be Inspired ambassador. Why is diversity and inclusion so important to businesses like yours today?
Without diversity and inclusion at all levels of the organisation, how can you make sure that all views are represented? You'll only be able to find part of the solution to any problem. Moreover, you can't begin to understand all types of customers without having all types of people within the organisation. At Pets at Home, one thing that is really important to us is encouraging everyone to be their authentic selves, bringing their whole selves to work – whatever level of the organisation they may be in.
"At Pets at Home, one thing that is really important to us is encouraging everyone to be their authentic selves, bringing their whole selves to work"
How are you implementing D&I policies at Pets at Home?
We've embedded inclusivity into our people strategy – for example, reward and recognition for achievements that matter to each individual, as everyone is different.
What do you find most difficult about driving diversity?
Finding out where it's not happening – diversity and inclusion requires the investment and collaboration of the whole organisation. At Pets at Home, we have engendered a culture of trust, so people feel they can speak up about any problems, but it is still a challenge.
Based on your experience, what key skills do you think modern leaders need?
They need to be a good listener, working collaboratively and understanding that no one person has all the answers. They have to be a role model. If there's a certain culture they want to have, then they need to represent those behaviours. They also need to have a clear vision, and be courageous about implementing and enforcing it.
If you had to name a retailer that inspires you, who would that be and why?
[US department store] Nordstrom – its customer service and employee engagement go above and beyond. It will go the extra length to make sure its customers are happy and also empowers its employees to simply "do the right thing", which builds this culture of trust that employees will know best.
How do you see the retail industry evolving?
I think we will see an increased focus on creating experiences, making retail stores destination points. People love to shop – it's still a favourite pastime – so creating that destination that the customers want to spend time in will be important.
Quickfire questions
What's the perfect way to spend Christmas?
With my whole extended family having a lovely Christmas lunch.
Who are your three dream dinner guests and why?
Any three of my closest friends, because they're all inspiring in their own ways.
What's the best part of Christmas dinner?
Turkey and stuffing.
What's your favourite Christmas film?
Love Actually – I've watched it this year already!
Will you be setting your out-of-office reply this Christmas?
Yes – as I've been with Pets at Home for over 10 years, I get 10 days' extra holiday this year, so I've got a lot of time off.
If you were running the country for the day, what one thing would you change?
Improve social mobility. I'd put policies in place to ensure all young people have the chance for a great career.
Is it better to be respected or liked?
Respected.
If you could be remembered for one thing in your career, what would you want it to be?
Achieving our vision at Pets at Home – to be the best pet care business in the world.
Name one retail leader that inspires you.
My chief executive Peter Pritchard.
What's your favourite animal?
My dogs.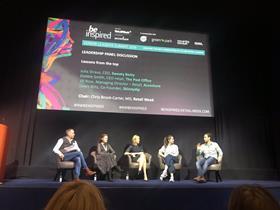 Be Inspired conference 2020: save the date
The Be Inspired conference, one of Retail Week's flagship events, will return on Wednesday June 17 in London.
It's set to be bigger and better than 2019 – which saw approximately 1,000 delegates in attendance and featured keynotes from Maggie Alphonsi MBE, Louise Greenlees and Theo Paphitis. Be sure to save the conference date in your diary.
Tickets will be going on sale shortly, so watch this space.