Retail Week's biggest-ever Be Inspired conference took place yesterday, with the sold-out event featuring keynote sessions by retail leaders as well as skill-based masterclasses.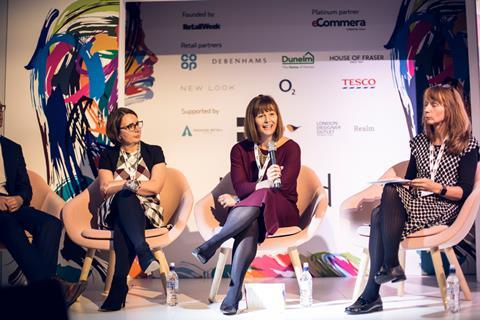 Retail executives including Boots UK boss Elizabeth Fagan, AO founder John Roberts and N Brown chief executive Angela Spindler, spoke to delegates on topics ranging from how to make the most of mentoring, making the right career choice and the art of blagging it.
Here are five key takeaways from the event.
Take custody of your career
Keynote speaker and broadcaster Emma Barnett spoke about the power of taking ownership of your career and ambitions, urging delegates to "take custody" of their careers.
Her words were echoed by Boots UK boss Elizabeth Fagan, who reminded delegates that "no one cares as much about your career as you do".
Fagan added that only individuals had the power to drive their careers forward and that no one could do that for them.
Let go of being perfect
L'Oreal UK consumer products boss Karen Flavard-Jones has climbed through the ranks of her organisation incredibly quickly. She's also managed to fit in having two children and has a third on the way.
Despite her speedy rise to the top, she cautioned delegates about the cult of perfection.
"We're rewarded, as women and as young girls, for being perfect," she said.
"You have to let that go. When you get busier and busier, getting it done is better than being perfect."
Work hard but retain balance
"Work really hard," was Fagan's disarmingly simple piece of advice to delegates.
She added that she never imagined she would reach her position as UK boss of Boots. She said she has achieved all she has, not through five-year plans, but by taking on new opportunities and doing the best possible job at every turn.
Flavard-Jones added a condition to this advice, cautioning delegates to avoid burnout: "Work hard but work sustainably," she said.
"Prioritise sleep, spending time with loved ones and exercise and nutrition."
Making mentoring work for you
AO founder John Roberts reminded delegates that there is an "incumbent responsibility" to ask for help, such as mentoring and development.
He added that "people you automatically put on pedestals will help if you ask them".
Tesco convenience managing director Tracey Clements said that prospective mentees tend to approach prospective mentors on the basis of seniority.
She argued that mentors should really be drawn from people who had the skills, knowledge, a particular attitude or approach that mentees wanted to acquire.
Have confidence – it's just an illusion
Kurt Salmon MD Helen Mountney tackled an irrational fear that's been found to be more commonplace in women than in men: imposter syndrome – the feeling that you don't deserve your role or have the expertise to excel in it.
"Have confidence in yourself and your abilities and know that you're probably a lot better than you think you are," she reassured delegates.
The Pragma Group founder Martin Palethorpe put a different spin on it: "Confidence is an illusion," he asserted.
"You have a natural ability to do the task in front of you. Unfortunately, thinking often gets in the way. You convince yourself you can't do something and show up as half the person you could be."