Most top retail positions are still held by white men. Retail Week Be Inspired explores how retail leaders can champion D&I by using their position of privilege to move the dial
It's common knowledge that the majority of leadership positions across retail are held by white men.
The scale of the problem
There are only 11 chief executives of an ethnic minority background leading consumer companies listed in the FTSE 100, FTSE 250 or AIM stock exchange - all of whom are male - while just five companies have diverse chairs, Korn Ferry data shows.
In Retail Week's 2020 Retail 100 index - the annual ranking of the top 100 most influential individuals in retail - only one black leader and 23 female leaders featured.
Top level and senior representation isn't going to change radically overnight. However, there are ways in which retail leaders can progress the diversity and inclusion (D&I) agenda.
Last year, following the BLM protests, Marks & Spencer chief executive Steve Rowe commented: "As a privileged white man, and as the CEO of a business of 78,000 colleagues – with different backgrounds, beliefs and ambitions – I've been reflecting a lot on what has happened and what we need to do at M&S."
Rowe said the actions taken by the retailer so far were not good enough and there would be a "much overdue review of our approach to diversity and inclusion". Significantly, he added: "I will be putting my personal weight behind this."
"It's incumbent for me and people like me to drive change"

Gousto's Jim Buckle
Rowe's comments - and preceding initiatives (he has recently changed M&S's recruitment process and brought new inclusion charities under the Sparks loyalty scheme) - highlight a key truth. It's entirely possible for white men, in positions of power, to progress diversity but it requires accountability. And that accountability starts with allyship.
What is allyship?
Many of us hold positions of power and privilege throughout our career – often without realising it. Allyship is when individuals use this power to become an ally; being a spokesperson and advocate for under-represented people within the retail industry; primarily women, Black people, Asian people, ethnic minorities, and LGBT+ communities.
White men can be allies for black women, white women can provide allyship to women of ethnicities and backgrounds different to their own and so on.
"Awareness and acceptance [of your privilege] as a white male is still missing in many cases."
Support from allies, and collaboration, with underrepresented groups through diversity and inclusion initiatives has been proven to improve business productivity and career progression.
By recognising their own privilege and situations where they hold power, white men in senior retail positions can play their part as an ally. HSBC global head of digital channel operations, retail banking and wealth management, Paul Szumilewicz says "awareness and acceptance [of your privilege] as a white male is still missing in many cases. It needs self-reflection".
Nisa chief executive Ken Towle works as an ally within his organisation and externally as a Be Inspired ambassador. He says it hasn't always been easy to recognise his privileges: "I enjoyed the value of a good education and a strong and stable family background. I didn't at the time think they were privileges but now I recognise them. For those individuals that don't have those important privileges, particularly in their early lives, that can set them at such a disadvantage going forward.
"In my early career, I also remember being part of a big group of trainee managers and we were all young men in our twenties. It was almost like being drafted into the army! I don't think we thought about it at the time that there were whole groups of people missing."
Gousto chief financial officer Jim Buckle, formerly COO at FeelUnique, says that he identified his privilege in being privy to conversations and decision-making that was not inclusive:
"I relate back to my experience at FeelUnique. I sat in plenty of board meetings there where the all-male board discussed the business which has a 95% female customer base and a 75% staff base. It didn't feel like that was the best place to make the most informed decisions."
Unlocking allyship
What it takes to be an ally, according to Google Cloud key D&I and allyship lead Ada Tagoe, is "three simple steps":
Learning – a time for self-reflection and gathering information
Engagement – setting up employee working groups
Action – speaking up as a true ally
At a Retail Week steering group held earlier this year with a group of retail leaders, attendees said step three was the hardest to achieve - notably because "allies have to speak out when things are not right and need to be able to challenge people without being perceived as aggressive or threatening."
There's also the concern around saying the wrong thing that can stop white male leaders from speaking out on D&I issues. Buckle highlights that "politics in diversity can seem like a minefield. Opinions have become quite polarised and there's a real fear of doing or saying something that may lead people to think it's easier to not put your head above the parapet."
However, Buckle asserts "it is the right thing to do".
Speaking up and speaking out
As a Be Inspired ambassador, Buckle says when asked to join Retail Week's D&I programme "it seemed strange": "I'm quite obviously a middle-aged, middle-class white man and I considered putting a female colleague forward on my behalf.
"However, when I thought about it, I realised that people like me are the ones that are over-represented in the workforce, particularly in management roles, and therefore it's incumbent for me and people like me to drive change."
Towle says that the "first barrier" to becoming an ally is taking time out to think about this subject and how to get involved. "There are the questions of 'what do I do?', 'who do I speak to?' and 'where can I actually add some value?'" he says.
"[Speaking out on] public forums is a great way to get involved but then there's also that slight reticence about 'what if I say the wrong thing?'. You can overthink it and not just be authentic."
"Spend more time with people who don't look, sound or speak like you"

Paul Szumilewicz, HSBC
Szumilewicz says that one way to address this and better understand the lived experiences of others is to develop relationships outside of your typical realm: "The thing I've realised that makes the single biggest impact, that anyone could do in a similar position, is to spend more time with people who don't look, sound or speak like you. It helps to broaden your perspective and broaden your networks."
The part executive sponsors can play
An effective way for white men to progress the D&I agenda in retail as allies is to become executive sponsors for under-represented groups. Executive sponsors will typically steer and lead internal working groups - gathering support, communicating goals, overcoming resistance, and providing ongoing direction - while acting as public spokespeople.
As white male leaders, Simon Roberts and Kevin O'Byrne of Sainsbury's are examples of how this works in practice.
Chief executive Roberts is board sponsor for Ethnicity, Religion and Belief at the grocer. As part of this role, he has been vocal on celebrating Black history and Black culture. In October 2020 to recognise Black History Month he stated: "I am proud to stand with our black colleagues and customers […] It's time for us to come together and drive change."
Similarly, CFO O'Byrne has been influential in his role as LGBTQ+ board sponsor.
Named an INvolve 2020 OUTstanding LGBT+ Role Model, in January 2021 O'Byrne commented: "In my role, as CFO and Board Sponsor, I am dedicated to ensuring that our colleagues feel supported and feel like they can embrace their differences when they come to work.
"Our teams have created very active networks like Proud@Sainsbury's, with the aim to make Sainsbury's a great place to work for our LGBT+ colleagues," he continued.
In 2020, the grocer was also voted leading retail employer for LGBT+ people in the Stonewall Workplace Equality Index - indicative of the bar O'Byrne is setting not just for Sainsbury's, but wider industry.
D&I - A necessity retail leaders must act upon
All retail leaders have to take responsibility for promoting diversity and inclusivity - without it, Buckle says, "you will have blindspots."
For Towle, driving the D&I agenda is both a "straightforward commercial proposition" and a wider societal necessity: "You need the very best talent to address the challenges facing businesses today, and if you're only taking a very narrow slice of the available capability and the potential of the workforce in the country then you're only ever going to be able to tackle those issues partially.
"More broadly, particularly for those in customer-facing businesses, you really want an organisation that is as representative as possible of the market base and communities you're serving."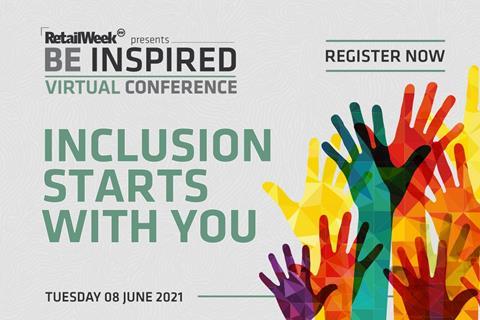 Allyship was one of the central themes explored at the Be Inspired virtual conference on June 8. Leng Montgomery, D&I consultant and former D&I lead at ASOS, delivered a keynote on how to be an ally and how to find allies, alongside why it's okay to feel uncomfortable along the way.
The conference was an essential watch for retail's exciting new chapter and take the first step towards invoking real change in yourself, your business and the world around you. View the sessions on-demand for free here.