Sainsbury's non-food business has "come of age". We discover how quality and design have played a vital part in its rejuvenated offer.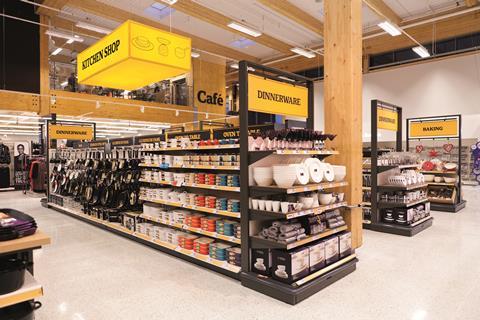 Sainsbury's general merchandise business hit £1bn annual sales last week after a strong performance over Christmas. While still a relatively small part of the grocer's overall business it is growing fast, at three times the rate of its food offer.
In short, the grocer's non-food business has "come of age", according to Roger Burnley, Sainsbury's managing director of general merchandise, clothing and logistics.
The grocer might be playing catch up in non-food with rivals Tesco and Asda, but as general merchandise continues to be difficult for many retailers, being behind is not necessarily a bad thing. Tesco suffered in the downturn partly because of its exposure to non-food, while because Sainsbury's is coming from a low base, it has only ever delivered strong growth.
Sainsbury's non-food, which includes general merchandise and clothing, contributes "north of 10%" of overall sales, according to Burnley, and for some of the festive period that hit 15%. "It's an important contribution, and we're on a cracking journey," he says.
Hero merchandise
Burnley believes Sainsbury's is doing non-food differently. It's latest non-food design iterations at its King's Lynn and Northampton stores, which opened late last year, show the grocer's thinking with wide aisles, lots of displays and merchandising more akin to a department store.
"Nobody really cracked non-food in supermarkets," says Burnley. "Nobody stepped away and asked what shoppers want from non-food in a supermarket. We're proud of our new non-food look but it is also a work in progress."
Non-food has been afforded plentiful space in King's Lynn and Northampton. There are wide aisles to help shoppers browse, clear sightlines between departments, displays of the latest products and clothing assortments showing different looks.
Robbie Feather, business unit director for general merchandise and entertainment, says there was an arrogance among food retailers that they could just throw in some non-food and people would buy it. "Non-food is just as demanding as food and requires different thinking," says Feather, adding that some retailers have turned the buying process for inspirational purchases "into a chore" for the consumer. "We have the same product [at King's Lynn] but we're not murdering it with shelf-ready packaging," he says.
Feather, who moved to Sainsbury's 18 months ago from John Lewis and before that ran his own furniture business, Feather & Black, explains the grocer's non-food strategy centres around "hero" categories.
"Our focus is on categories where we believe we are a destination," he says.
Sainsbury's hero categories in general merchandise are 'seasonal', 'cook shop', and 'paper shop' - its stationery offer - which sit alongside the clothing offer.
"These are the areas where we are a destination," says Feather. "While we are not taking our foot off the gas in the other non-food categories, if we grow our hero categories then it will ensure we have the right margin mix."
He points out that Tesco has a much higher electricals mix than Sainsbury's, which is part of the reason it has suffered in non-food because many purchases in the category have moved online. "We don't want to replicate that mix," says Feather.
Quality environment
For James Brown, business unit director for Tu clothing who joined Sainsbury's 18 months ago from Littlewoods, the King's Lynn and Northampton stores represent an "inspirational store environment". He says: "We've put a lot of work into the design and quality of our product, and we needed to come up with an environment that reflected that quality."
He explains: "The fixtures allow customers to be guided through clothing in terms of outfit building and different categories. Our customers come to clothing for a bit of R&R before they leave so we need to make sure the environment is fitting for that."
Sainsbury's has used arches as a statement to show shoppers where the clothing offer starts. "These act as clear signposts but also allow us to have mannequins showcasing the latest looks to again give inspiration," says Brown.
There is also clear sight through to the Gok Wan-designed range, which has been "hugely successful" says Brown. The range is at a higher price point to the grocer's Tu brand and Brown says it "gives our customers something special and pushes the boundaries in terms of newness".
The SKU count in Sainsbury's new-look stores has been reduced to give space over to the products, but Feather says trading intensity - sales divided by space - is up 11%. "We're selling more from fewer SKUs," he says.
Kantar Retail director of retail insights Bryan Roberts says Sainsbury's latest non-food offer is "very impressive". He observes: "It has lavished space on non-food, making it open and easy to shop. Some of the categories are streets ahead in terms of what the other supermarkets are doing."
Roberts says the fixtures and fittings Sainsbury's has used make it "more John Lewis than a supermarket". He says that in the same way that Tesco's new health and beauty offer is a "million miles away from the competition, Sainsbury's refreshed non-food look is the same".
Non-food categories that aren't necessarily "heroes" are still considered credible categories, says Feather. "It's important for us to have categories such as electricals and entertainment as our customers expect to see them," he says. "But we will look at how much space to devote to them and what the model will look like going forward."
The space devoted to entertainment has been reduced by 30% in King's Lynn and Feather says the trading intensity is the same.
Burnley adds: "Entertainment is doing well in a declining market, and we've seen some of the increased demand for electricals after Comet [went into administration]. We see all those categories playing their part for a good while yet."
The new-look non-food offer will be rolled out to about 10 stores initially, says Feather, and the grocer will also work on giving some other lines the same treatment as the hero categories. "What we are doing in the cook shop we want to do to textiles," he says.
The success of any store design is ultimately measured by its ability to be rolled out. Roberts says: "Sainsbury's non-food offer looks amazing in those new stores, but in my local store it is just a couple of aisles with no thought to merchandising. Not all stores will be able to look as good but they should be able to roll out key fixtures and fittings so all stores see a benefit."
Burnley says there are "some challenges around maintaining intricate fixtures in a high footfall environment" but the grocer will learn from the trial. He adds: "The key to any new concept is the rollback-ability so we always have that in mind."
Alongside the design of the non-food environment, Sainsbury's has also worked hard on product and price. Sainsbury's aims to be 20% cheaper than the high street on non-food. Feather says the grocer's intention is to "create product we love and display it in a way that gives inspiration, but at the same time we need to do value". The retailer is rolling out a price index across general merchandise that monitors its pricing against that of the other supermarkets and high street competitors.
In clothing, the objective is the same. Brown says: "Our vision is high street style at supermarket prices in a high street environment."
Question of quality
The displays across general merchandise feature a mix of own-label product and brands. Burnley says the grocer has worked hard on its own-brand ranges, opening sourcing offices in places such as Hong Kong and Bangladesh, but that brands are equally important.
"They add credibility," says Burnley. "We stock Apple in electricals, for example, and sold 12,000 iPads at Christmas."
Other brands in the new-look stores include KitchenAid in kitchen shop and Sanderson in the paper shop. "Brands are the eye candy to engage the customer but then we also have the volume staples," says Feather.
Burnley says: "No matter what you do with the environment, there is no substitute for product, and we've worked hard on our ranges to make them design-led."
The grocer is pushing design and has 12 designers in general merchandise. In clothing it has 10 designers for womenswear, four for menswear and 14 for kidswear.
"We're as strong in design headcount as John Lewis," says Feather.
Across general merchandise and clothing, Sainsbury's will further enhance its own brand this year.
In general merchandise, Sainsbury's is developing its brand architecture around a good, better, best proposition. The three tiers are Basics, mid-tier Sainsbury's, and premium-tier Collection, which uses the same lettering and purple background as the Taste the Difference food brand.
Collection, which is used for items such as toasters under Kitchen Collection, or casserole dishes under Cook's Collection, has been trickling in for a few months. Feather says: "Every time we put something in under the Collection brand it really resonates with customers."
Further work in this area will continue this year, along with the synergy between food and non-food ranges, although plans are not yet finalised. "We are making a substantial investment into non-food," says Burnley. "With a 143-year food heritage, it would be remiss not to take some of that into non-food."
Feather says Sainsbury's will also seek to develop one-off ranges where applicable such as its Bake Off range, following on from the success of TV show The Great British Bake Off.
Newness every week
Tu will be developed as a clothing-only brand to "build a stronger identity" says Brown. At present, some homewares lines are sold under the Tu name. While plans for Tu are not finalised, Brown says Sainsbury's will work on brand awareness later this year.
Tu is aimed at fashion followers and Brown says it is defined by attitude rather than age and has customers ranging in age from 18 to 65. "Quality is key, alongside fitting, and we take catwalk trends and make them relevant for our customers," he maintains.
He says a lot of work has already been carried out on newness. Main collections come in every six weeks and on top of that there is some form of newness every week. "Regular customers come in twice a week so we need to show them something new," he says.
Brown has worked on the grocer's sourcing model so it is not always buying on long lead times now. It now sources from Turkey where it has an eight to 10-week lead time.
Burnley says the non-food offer online is "relatively small but we're very aware of the opportunities out there". He believes there are opportunities with initiatives such as click-and-collect, and while there are no plans at present to sell clothing online, Burnley says "we're never blind to the opportunity for clothing online".
But the big focus for Burnley remains stores as he points out that fewer than one in five Sainsbury's supermarkets has a full non-food offer at present, equating to 31% of the population being within a 15-minute drive of the full range. "We've got lots to go for," he says.
Sainsbury's might be playing catch up with non-food, but it is clearly carving out its own niche.
Non-food in numbers
Non-food is growing at three times the rate of food at Sainsbury's
General merchandise annual sales have topped £1bn
Cookware has grown at 16% over the past year, the sixth largest in the market by volume
Cards and stationery are the fifth largest category by volume
Womenswear is eighth by volume and 14th by value, kidswear is sixth by volume and 10th by value, menswear is 10th by volume and 22nd by value
Sainsbury's launched general merchandise 12 years ago and clothing eight years ago
Its average non-food department is 35,000 sq ft in a 70,000 sq ft store
Tu started as a kids' brand supplied and designed by Adams
Sainsbury's King's Lynn store is 72,000 sq ft with a 28,461 sq ft non-food department
Source: Kantar Worldpanel