Walmart International boss Judith McKenna has insisted the business is committed to driving Asda's strategic plan following the collapse of its proposed merger with Sainsbury's.
Speaking for the first time since the deal was blocked by the Competition and Markets Authority (CMA) last month, McKenna told the World Retail Congress (WRC) that Asda was a business that remained "close" to Walmart's heart, despite its failed plan to offload a 58% stake in the supermarket giant.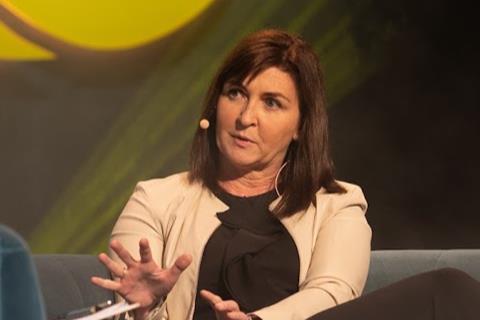 Rumours have suggested that Walmart would now seek a plan B to scale back its exposure to the fiercely competitive UK market. Private equity house KKR has already been touted as potential suitors should Walmart seek to sell the grocer, while a stock market float has been mooted as another potential option.
But McKenna said Asda boss Roger Burnley and his leadership team had "done a phenomenal job" over the past year and that Walmart would "make sure that they have got the resources" to press on with their turnaround plan.
Asda had sought to join forces with Sainsbury's in a £13bn mega-merger, which the two retailers claimed would allow the combined business to slash prices of grocery staples by 10% and invest in quality.
The second- and third-largest supermarket businesses in the UK vowed to invest £1bn in price within the first three years of the merger being completed. However, the CMA vetoed the deal, claiming it would lead to increased prices and a reduction in quality for shoppers.
When asked about the collapse of the deal during day one of WRC in Amsterdam, McKenna said: "Undoubtedly, that was a bold move. We genuinely believed that creating this new business combination from a unique one-off opportunity would have allowed us to accelerate lowering prices for customers.
"I've worked in the UK market for a very long time and anyone who thinks that putting up prices in that level of competitive environment, I would say perhaps doesn't know the environment and the market dynamics that well, or certainly what our business would stand for."
She added: "However, that was then. Life moves on fast. That's really what it's all about for us now.
"The team at Asda – Roger Burnley and his team – have actually done a phenomenal job staying really focused through all of this noise over the last year and have delivered some impressive business results.
"For the team there, it's all about focusing on the future and what's next. They've got a good strategic plan and we've been clear: it's a business that's very close to our hearts. We will make sure that they have got the resources going forward to be successful."
Analysis: Is there appetite for an Asda IPO?
1

2

3

Currently reading

Judith McKenna: Walmart focused on Asda's future after failed Sainsbury's merger