Next has used social media not just as a marketing tool, but also as a way to provide feedback on whether it is using channels such as Facebook as effectively as possible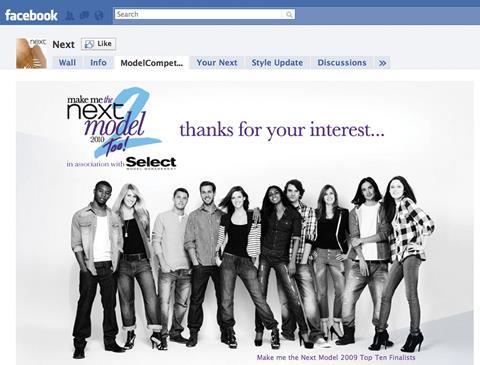 The same day as this article is published, fashion retailer Next will be hosting the live finals of its latest competition to find members of the public to act as models in its advertising.
Last year, it used the social networking platform Facebook to publicise the competition and create an ongoing buzz about the campaign, something that it has done again in 2010.
But in the past year it has also used social media to contact customers and recruit them to a customer panel, providing feedback on the way it uses social media, among other things. Speaking at the Market Research Society's conference on retail research, Next and surveying partner Virtual Surveys spoke about their experiences of creating customer panels through social media.
Next Group market research manager Frances Williams said: "Social media has become part of the package to re-establish Next as a fashionable shopping destination."
She explained: "Activity started in 2009 when we set up a Facebook page and put some resource behind it to manage the content. In summer 2009 we set out to find the next advert models, and then in autumn set out to find the kidswear models. This ended with an event for finalists where they could bring their friends and family."
"Would-be models canvassed for votes on Facebook as well as good old word-of-mouth." The activity spawned its own content as the models were followed on photo-shoots, etc.
It has been necessary for Next to moderate the page and quickly respond to what fans post up. But Williams also pointed out that because relationships on the social networking site are informal and personal there is a strong contrast with the type of formal language that would be used in a letter from Next's customer services department.
Between the first competition and the one this year, Next has undertaken primary research into how it was using social media to see what people do and don't like about what it has been up to. Next felt this was a better way of gauging an understanding than simply ranking itself against its competitors based on who had more fans - it has about 180,000 on Facebook - a metric that only goes so far to show how many consumers you are actively and regularly engaging with using the channel.
Talk to me
Williams said: "We wanted to talk to some people in depth about what we were doing and what they liked. So we set-up a short-term online research community - recruited via our Facebook page - but then took them off onto a separate platform [for the research] although the look and feel is very much in keeping with Facebook."
Some 50% of those who were recruited to the 'V-discussion' research community participated over the couple of weeks it was up and running with new discussion topics every day. The decision was taken to do the research away from Facebook as Next didn't want its fans to think the retailer had infiltrated the page, or was spying on them.
The research, especially compared with other analysis of Next Directory customers, has thrown up some interesting differences between those who are fans on Facebook, and what would be considered the retailer's more traditional customers.
For instance, 42% of those on Facebook are aged between 16 and 24, though the average customer age is much higher overall. Some 53% of those on Facebook said that they were likely to shop at Next in the near future, compared with only 13% of the group of Directory customers.
And 75% of Facebook fans said they would tell their friends about the model competition, compared with only 17% of those who were Next Directory customers. Facebook fans were also much more likely to think that Next is a brand on the way up (85%) than Directory customers (59%).
Williams concludes: "It is still very early days, but there is no doubt that 'V-discussion' has established itself as a useful tool." However, she adds that it is not a complete replacement for face-to-face qualitative research: "You are talking to a self-selecting sample. They may be a silent majority, or a minority that we are not hearing."
Singing marketing's praises
1

2

3

4

5

6

Currently reading

Virtual research