The proportion of retail sales through town centres is expected to decline significantly in the next three years, as Mary Portas attempts to reverse a "crisis" situation.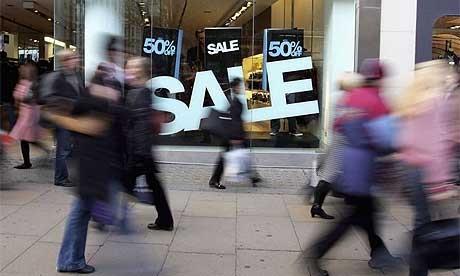 Mary Portas on…
High streets
"They should be vibrant places that people choose to visit. They should be destinations. Anything less is a wasted opportunity"
Big chains
"I often get bashed for saying I don't like the big chains but that's not true. I believe we have some of the best retail chains in the world"
Out-of-town
"While I do believe that there are many compelling instances when out-of-town retail has drained the traffic and retail offer from our town centres, it would be naive and far too easy to simply think that they are to blame for the decline of our high streets"
The percentage of sales in town centres is forecast to decline, from 43.3% of total retail spend in 2009 to 40.2% in 2014, according to the Understanding High Street Performance report by the Department for Business, Innovation and Skills, data released to accompany with The Portas Review.
"The requirement for every out-of-town development to go to the secretary of state achieves nothing other than to add a layer of red tape"

Lord Wolfson, Next
Portas, who was hired by the Government to conduct a review of Britain's high streets, proposes to re-energise town centres by shifting the emphasis away from "purely commercial" entities to "multifunctional and social shopping high streets" with non-retail anchor tenants and footfall drivers.
The Government figures also forecast a loss of 8.2% of retail floorspace in town centres between 2009 and 2014, with store numbers declining by 6.4% across the same period.
Retail vacancy rates within town centres are expected to worsen, from a current rate of 11.9%, to a peak of 12.2% in 2013, before gradually falling back to 11.3% by 2020.
The Portas Review made 28 recommendations to boost high streets. They included free controlled parking schemes, a National Market Day, creating Town Teams for the high street and large retailers supporting local independent retailers. It also calls for business rates to be calculated using the CPI rate of inflation instead of RPI.
"Supermarkets are not the root cause of the issues that the high street is facing"

Alex Gourlay, Boots
Alliance Boots chief executive Alex Gourlay welcomed many of the ideas and said: "There needs to be a much more equal cost for retailers in different locations. This is to do with a number of factors such as business rates, local authorities and attitudes of landlords to taking in a longer-term view."
While British Retail Consortium director of business and regulation Tom Ironside noted the absence of measures to tackle crime, safety and security in the report, he said "the vast majority" of recommendations were "pretty closely aligned with our policy objectives".
He said: "The core thrust is of a constructive agenda. The affordability of business rates, parking and the leadership vision are exactly the right way to go."
"High street stores play a crucial role for a multichannel retailer. We look forward to continuing this important debate about how best to support them"

Ian Shepherd, Game
The 50-page review calls for a "contract of care" between landlords and tenants with "more flexible" terms, options other than upward-only rent reviews, disincentives to leave units vacant and opportunity to change usage of properties easily.
The Government will respond to the review in the spring and has pledged to allocate a high street remit to a Government minister.
Portas expressed concern over the encroachment of large grocers on traditional trade. She said: "What worries me is that the big supermarkets don't just sell food anymore, but all manner of things that people used to buy on the high street. They've been expanding into homewares, stationery, books, flowers – you name it."
Portas highlighted Sainsbury's move into standalone pharmacies as an example.
"We share Mary's views that the draft National Planning Policy Framework should carry forward the protection for town centres"

John Lewis Partnership
However, Gourlay said: "Customers are looking for convenience and accessibility in healthcare and if Sainsbury's feels it can offer it then it should pursue that strategy. It's up to other retailers like us to ensure we do it better, faster and cheaper. It's easy to blame the supermarkets."
Iceland chief executive Malcolm Walker said he agrees with Portas's view that a "clear, differentiated proposition" will be the key to high street survival.
Portas suggested the communities secretary be given "exceptional sign-off" on new out-of-town developments. Portas also called for an "explicit presumption in favour of town centre development" in the National Planning Policy Framework.
Online threat or opportunity?
Mary Portas flagged the rise of etail as among the forces reshaping the high street and likely to lead to fewer town centre shops in the future.
She cited the growth of online as one of the greatest dangers facing high street retail and highlighted estimates suggesting ecommerce accounted for nearly half of all retail sales growth between 2003 and 2010, while m-commerce has grown by more than 500% in the last two years.
Her report said: "New technological developments now mean that the internet is one of the key threats to retail on our high streets."
However, some retailers disagreed with her view. A spokesman for Argos, which has 750 stores mainly on high streets, said its online offer complemented its bricks-and-mortar stores.
He said: "Our stores are what differentiate us from pure online retailers. With 40% of online sales collected in stores, customers enjoy the convenience."
He added: "High streets need a mix of retailers to attract customers, which is where we haven't always supported Portas's views on big-brand retailers."
Portas envisages a future high street that is not so reliant on stores. She said: "What's the future? I don't think it's more shopping. We need to look at future trends and issues and think of high streets holistically to create a sustainable model."
She believes the high street must be "re-imagined" as a destination for socialising, culture, health, wellbeing, creativity and learning, as well as shops.
The aim is to create a place for the community "in a way that a supermarket or mall, however convenient, however entertaining and however slick, just never can".
She said: "I want to see high streets where localism really delivers integrated action from all the relevant stakeholders. Local authorities, landlords, retailers and the public working together to animate the spaces they occupy, creating and nurturing their own unique place."